CSC News
November 05, 2009
Gordon to Speak at Fall 2009 Diploma Ceremony on December 19th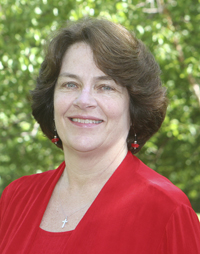 The NC State University Computer Science Department will hold its fall diploma ceremony on Saturday, December 19th at 1:30 p.m. in the main sanctuary at Providence Baptist Church, located at 6339 Glenwood Avenue, Raleigh (directions).

We are honored to have alumna Suzanne Gordon (B.S. '75, M.S. '80), serve as our keynote speaker.

Gordon is the Vice President, Information Technology and Chief Information Officer at SAS Institute in Cary where she oversees the IT infrastructure and support services that form the cornerstone for SAS' successful software development and sales efforts.

Gordon was elevated to CIO from Vice President of the SAS Information Systems Division (ISD) in 2003, the same year she was named a ComputerWorld Premier 100 IT leader. She was honored for her innovative, effective approach to providing hardware, software and project management support for national and international operational systems. Gordon has also served as the Director of National Technical Consulting and acting Vice President within the SAS Professional Services Division, where she directed the consulting, strategic support and partnering activities of nearly 300 employees.

Before joining the professional services organization, Gordon headed the management information services department in ISD for nearly 20 years, where she helped develop the company's information- and applications-rich intranet. She joined SAS in 1980.

A graduate of NC State University with bachelor's degrees in math and computer science and a master's degree in statistics, Gordon maintains close ties to the university. A member of the board of trustees, she has also served on the alumni association board and College of Management Advisory board. Gordon, a frequent speaker and mentor to women pursuing technical careers, is also active in a medical ministry that provides services to low-income individuals.

Approximately 119 graduates are expected to receive their degrees during the ceremony.

Our special thanks to our Diploma Ceremony sponsors: Red Hat, our ePartners Program, its participating corporate sponsors, and the NC State Engineering Foundation.

For the convenience of guests who might require overnight accommodations, there are a number of hotels located in the immediate area. We suggest the Hampton Inn Raleigh – Crabtree, located at 6209 Glenwood Avenue, (919) 782-1112, or click here.

NOTE TO GRADUATES: The first two rows of seats will be reserved for family and friends who wish to take photos. But please know that as each graduate is handed his/her diploma, a professional photographer will take his/her picture. A free color proof will be sent to each graduate's current mailing address, including a password for online viewing. There is no obligation to purchase prints. To receive email notification when photos are online, please visit www.photospecialties.com to pre-register. If a proof is not received within a week of the ceremony, please contact info@photospecialties.com or call 1-800-722-7033.

In addition, Providence Baptist Church provides ample free parking, comfortable accommodations, and professional AV capabilities allowing for live broadcast of the ceremony from multiple cameras angles. DVDs of the ceremony are available for a nominal $25 processing fee. Contact Tammy Coates for more information.
~coates~

Return To News Homepage