CSC News
October 29, 2009
Jiang Receives Award to Study High Assurance Computing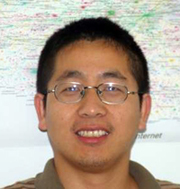 Dr. Xuxian Jiang, assistant professor of computer science at NC State University, has been awarded $199,416 by the US Air Force Research Laboratory to support his research proposal titled "Towards High Assurance Active Introspection."

The award will run from October 20, 2009 through October 20, 2010.

Abstract: To realize the vision of high assurance computing architectures, it is important to have the capability of monitoring, controlling, and manipulating a target machine with high trustworthiness and tamper-resistance. In this project, we propose to investigate and develop high-assurance, active introspection capability for virtual machines (VMs). Such capability is transparent to the guest VM running in the host, whereas the host will have a control interface to affect the guest VM's operation. Moreover, we will explore the feasibility of moving such capability into a hardware-based hypervisor for higher assurance and tamper-resistance. If successful, our research will be a solid step toward high-assurance computing with applications in trusted cloud computing, virtual cybercraft, and honeypot/honeyfarm systems.

For more information on Dr. Jiang, click here.
~coates~

Return To News Homepage