CSC News
October 23, 2009
Fidelity Investments "Leadership in Technology" Series Presents Donald A. Thompson, Jr.
Please j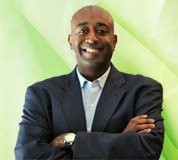 oin us on November 10th at 6 pm in Lecture Hall 1231 EBII for the next fall talk in the Fidelity Investments "Leadership in Technology" Executive Speakers Series.
Our special guest speaker will be Donald A. Thompson, Jr., President & CEO of I-Cubed. His talk topic will be "The Three C's to Win in Today's Economic Environment."
In this role as CEO & President of I-Cubed, a technology firm headquartered on NC State's Centennial Campus, Thompson provides the strategic framework for delivering a portfolio of enterprise software and service solutions to a global customer base.
Thompson serves as Chairman of the MRG LLC Advisory Board, on the NC State Computer Science Strategic Advisory Board, and is the Founder/Managing Partner for SGW Consulting.
For his complete bio, click here.
Abstract: The recent financial meltdown, Internet bubble and the integrity violations of leaders have exposed a steep price when success turns out to be an illusion. The next generation of leaders must regroup and win in an atmosphere of risk and uncertainty. The point is no one knows exactly what to do. The critical difference is our ability to derive the correct lessons that turn our current experiences into a platform for producing personal and professional results. Blending the aggressive professional expectations of today with a plan for developing portable skills for tomorrow is a survival requirement in the new economy. Simply put, everyday is a race to improve and every meeting is performance review. Any cookbook approach is powerless with the unfolding situations of the real world, so no cookbooks. We'll discuss actionable, relevant and repeatable examples of how I-Cubed continues to punch above it's weight delivering technical solutions to customers/partners like BAE, Electrolux, Black & Decker, Adobe Systems and PTC.
The event is free and open to the public. Ample free parking is also available.
For directions and more information, visit the series page or contact Ken Tate.
Return To News Homepage