CSC News
October 21, 2009
View Hunt Library Construction Site Via Web Cams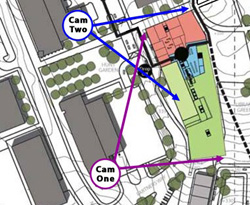 North Carolina State University will begin construction on the James B Hunt Jr. Library located on Centennial Campus with an official groundbreaking on October 23, 2009.
If you would like to monitor the construction progress of this impressive facility, two user controllable web cameras have been installed. Camera One is mounted west of the site on the Partners I building – an especially good view of the construction on the south end of the building facing Lake Raleigh. Camera Two is mounted on the Corporate Research I building – a great vantage point to view the north end of the site.

To access the web cameras, click here.

For more information on the James B. Hunt Jr. Library, click here.

~coates~

Return To News Homepage