CSC News
October 06, 2009
Ratn Chosen as Nominee for CSGS ETD Master's Thesis Award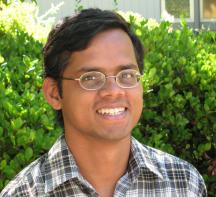 Prasun Ratn, a 2008 graduate with a Master's Degree of Computer Science from NC State University, has been selected as the NC State University College of Engineering nominee for the Conference of Southern Graduate Schools ETD (Electronic Thesis and Dissertation) Thesis Award.

This is the third consecutive year that a student from the Computer Science Department has been the College of Engineering's nominee for this award, and last year's national winner, Payal Chakravarty, graduated in 2007 with a Master's Degree of Computer Science from NC State.

Dr. Frank Mueller, associate professor of Computer Science at NC State University, advised Ratn's thesis, "Preserving Time in Large-Scale Communication Traces."

Since graduating from NC State, Ratn has been employed as a software engineer at Intel. He has been developing systems software for various platforms ranging from ordinary cell phones to large supercomputers.

The CSGS is an organization of over 200 graduate schools in the following fifteen states of the southern region of the United States: Alabama, Arkansas, Florida, Georgia, Kentucky, Louisiana, Maryland, Mississippi, North Carolina, Oklahoma, South Carolina, Tennessee, Texas, Virginia, West Virginia, and the District of Columbia.

The Conference's purpose is to consider topics relating to graduate study and research, which are of mutual interest and concern to the member institutions. In addition, dissemination of information, promotion of standards, encouragement of research and assistance to institutions starting graduate programs are important functions of the organization. The Conference serves as a liaison with other national and regional educational bodies on behalf of the institutional members.

For more information on the CSGS, click here.

~coates~

Return To News Homepage