CSC News
October 01, 2009
Samatova Receives Funding to Study Social Architectures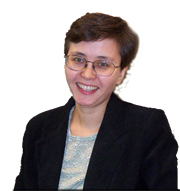 Dr. Nagiza Samatova, associate professor of computer science at NC State University, has been awarded $15,024 by Topiat, Inc. to support her research proposal titled "A Novel Method for Recommendation Systems Utilizing Computationally Structured Social Architectures."

The award will run from September 24, 2009 to January 31, 2010.

Abstract – This project proposes to research and test a novel revenue-generating product and media recommendation system. We will architect and experimentally test a recommendation system that will facilitate the social process of preference formation and the diffusion of innovations by adapting the currently socially embedded architectures that facilitate these social processes as frictionless information architectures made for an increasingly internet-enabled society. Our social architecture will provide new product and media recommendations to consumers by acting as an automatic identifier and coordinator of opinion leaders, their discoveries, and consumers, modeling our process from breakthrough sociological models in consumer preference formation.

For more information on Dr. Samatova, click here.

~coates~

Return To News Homepage