CSC News
September 29, 2009
NetApp Support Enables NC State's Next Generation Cloud Computing Research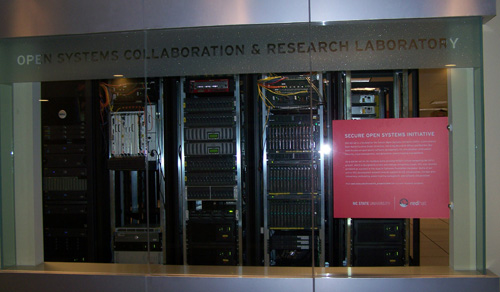 The NC State University Department of Computer Science announced today that NetApp, a Super ePartner with the department, has contributed hardware, software and services valued in excess of $260,000 to the university to expand the Virtual Computing Lab (VCL) and build the next generation of cloud computing environments. NetApp has a dedicated team focused on higher education and this investment in NC State demonstrates its continued commitment to higher education.

NetApp contributed a FAS3070 data storage system; Data ONTAP®, FlexClone®, and SnapMirror® software; and consulting support services to accelerate the University's cloud computing research. This is the second large donation that NetApp has made to the Department of Computer Science's Cloud Computing research efforts in an ongoing effort to support the development of cloud infrastructure.

NC State started the development of a Web based virtual computing laboratory environment in 2004 to address the growing compute needs of its students and faculty, allowing them to access laboratory resources from their dorm rooms or libraries instead of being physically located in the limited lab space on campus. The project has grown into a cloud-focused initiative that has at its core the VCL code created by the NC State College of Engineering, NC State Office of Information Technology, and NC State Department of Computer Science, which enables students and faculty across the university to reserve and access remotely provisioned virtual sessions.

Its use has grown beyond the original lab focused use and is being shared and leveraged in multiple education environments across North Carolina and beyond, including George Mason University, Georgia State University, Morgan State, and others, that have formed a Cloud Consortium to further develop and leverage the capability of the VCL. The VCL code has been placed in the open source community via the Apache Software Foundation (apache.org) to allow for further development in an open environment.

NC State's NEXT Services Group is developing a software module to integrate VCL with NetApp® storage systems via open interfaces. This will allow the VCL to leverage innovative NetApp technologies by creating thousands of concurrent virtual lab environments nearly instantaneously, eliminating the many minutes currently required to copy data and minimizing cost by reducing the need for local hard drives on the provisioned servers. The VCL will demonstrate the ability to decouple storage and computing hardware using state-of-the-art storage systems and system provisioning on a large scale.

"Our department is focused on providing socially relevant solutions that address real-world problems," said Dr. Mladen Vouk, professor, computer science department head, and associate vice provost for information technology at NC State. "Our efforts are enhanced greatly by the strong collaborative partnerships we have with industry leaders like NetApp. We very much appreciate their ongoing support."

"The North Carolina State University Department of Computer Science is pioneering innovative concepts in cloud computing," said Rich Clifton, senior vice president and general manager, Technology Enablement & Solutions Organization, NetApp. "It is great to see our innovative storage systems and data management capabilities enabling breakthroughs in cloud computing research and development at NC State."

About NC State's Virtual Computing Lab (VCL)
NC State's VCL cost-effectively and efficiently delivers diverse computing resources over the Internet to more than 30,000 students and faculty. VCL-based cloud computing was designed to deliver over-the-network on-demand and scheduled services that can give students access to advanced educational materials, select software applications, and comprehensive computing and storage resources. Only requiring an Internet connection, students and faculty can remotely access a desired set of applications and educational programs over the Web using a PC, laptop or Internet-enabled device anywhere, anytime. These applications, stored in a virtual cloud, can be tapped via the click of a mouse. Access is on-demand and offers a range of options from single desktops to classroom-sized labs, to collections of servers, to high-performance computing services. To learn more about VCL, visit http://vcl.ncsu.edu.

About NC State's NEXT Services
NEXT Services is a service center that provides information technology professional services to state and federal agencies, private and public sector corporations and research organizations. Housed on NC State's Centennial Campus, NEXT Services was created to bridge computing, networking and information technology expertise with real world problems. Professional services range from general information technology business process analysis to performance testing of equipment. For more information on NEXT Services, click here.

About NetApp
NetApp creates innovative storage and data management solutions that accelerate business breakthroughs and achieve outstanding cost efficiency. Discover our passion for helping companies around the world go further, faster at www.netapp.com.

~coates~

NetApp, the NetApp logo, Go further, faster, Data ONTAP, FlexClone, and SnapMirror are trademarks or registered trademarks of NetApp, Inc. in the United States and/or other countries.

Return To News Homepage