CSC News
September 18, 2009
Mueller Receives ORNL Award to Study GPU Data Streaming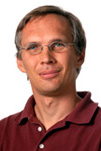 Dr. Frank Mueller, associate professor of computer science at NC State University, has been awarded $19,000 by the Oak Ridge National Labs – UT-Battelle LLC (ORNL) to support his research proposal titled "Data Streaming on GPU Clusters."

The award will run from August 21, 2009 to January 31, 2010.

Abstract - This work seeks to construct data streaming abstractions for clusters composed of graphics processing units (GPUs). The proposed work covers development of stream operations, such as abstract split/join operations, demonstrated through concrete text application, such as text search, for massive data processing requirements in clusters of GPUs. We propose to demonstrate the feasibility of GPU clustering for data-dependent programming problems with fixed input data as well as live data streams.

For more information on Dr. Mueller, click here.

~coates~

Return To News Homepage