CSC News
September 15, 2009
Young Appointed as Triangle Game Initiative Officer for 2009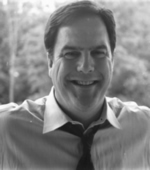 Dr. R. Michael Young, associate professor of computer science at NC State University, has been named Research Director for 2009 for the Triangle Game Initiative (TGI), a non-profit trade association for the Raleigh-Durham, NC interactive entertainment industry. Young is also a member of the organization's board of directors.

The Triangle Game Initiative promotes the Triangle region's interactive entertainment industry, including immersive technologies, video game development and publishing and game media, through brochures, newsletters, conferences, tradeshows, summits and other promotional activities aimed at attracting other game companies and employees to North Carolina. TGI aims to create a community of industry professionals within the Triangle that can share best practices and develop a hub of knowledge that can attract the best talent and companies. To that end, they organize and sponsor the Triangle Games Conference, an annual industry conference bringing together game developers and students from across the nation to discuss best practices and new trends in the game industry.

In addition to his teaching responsibilities at NC State, Young directs the Liquid Narrative Research Group in the computer science department. He is the founder and co-director of the university's Digital Games Research Initiative. His work involves research on computer games, computational models of narrative comprehension, story structure and automatic generation of cinematic sequences in 3D environments. His focus is on the development of core artificial intelligence techniques for use within virtual environments, with applications to entertainment, training, education and other interactive contexts.

For more information on Dr. Young, click here.

For more information on TGI, click here.

~coates~

Return To News Homepage