CSC News
September 15, 2009
Benavente Wins "Pride of the WolfPack" Award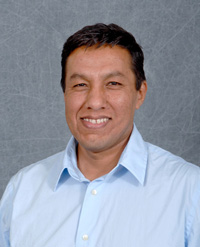 Carlos Benavente, IT Manager of the NC State University Computer Science Department, has been selected as one of the recipients of the "Pride of the WolfPack" Awards for August 2009.
The awards are designed to recognize NC State employees for a special or unique contribution to their college/unit or the University. Criteria for the award include: leadership on the job, customer focus, and quality of service.

Carlos was recognized for his outstanding efforts and contributions as interim IT manager, a role he assumed almost a year ago, while keeping up his regular job as systems programmer and web master for the CSC department's web site. During his interim leadership, several oustanding resources joined the IT function allowing for an enhanced level of service. He was recently promoted to Manager of the Computer Science Information Technology team, where he leads the development of Web applications, manages the department's Web server, and provides DBMS for instructional and infrastructure use.

Congratulations Carlos, and thanks for all your hard work and dedication to Computer Science and the College.

~coates~

Return To News Homepage