CSC News
September 02, 2009
Young Receives NSF Research Award to Study 3D Virtual Environments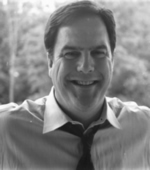 Dr. R. Michael Young, associate professor of computer science at NC State University, has been awarded $497,860 by the National Science Foundation (NSF) to support his research on narrative within games and virtual worlds. The award will run from August 1, 2009 to July 31, 2012.
The project, titled CIRCMNaVE (Character Intention Revision and Conflict in Mediated Narrative Virtual Environments), will develop new cognitively informed models of narrative action and will use these models to control characters within a 3D virtual environment. The same models will then be used to make effective predictions about the results of users' understanding of the stories that they experience in the game worlds.
"CIRCMNaVE builds on existing ideas about narrative drawn from psychologists, narrative theorists and others to create a computer model of how specific elements of stories work," Young said. "By building precise models of things like conflict between characters or the way that characters' plans and knowledge about the world around them changes over time, we can begin to create stories on demand whose content contain the kinds of structure we expect from well-written human stories. Except these will be stories created by a computer program and, unlike conventional narrative media, will be entirely interactive."
The project will focus on new knowledge representation schemes for the control of narrative action, looking primarily at the structures of conflict and goal dynamics for computer-controlled characters within virtual worlds.

For more information on the CIRCMNaVE project, click here.
For more information on Dr. Young, click here.

Return To News Homepage