CSC News
September 17, 2009
Keith & Margaret Collins Make Transformational Gift Plans
Gift plans include a professorship and multiple endowments valued in excess of $2.5M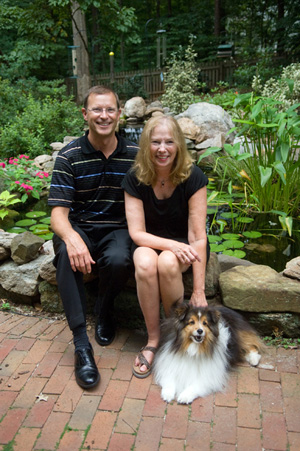 Computer Science alumnus Keith Collins (B.S. '82), and his wife Margaret (B.S. Horticulture '79) have recently finalized gift plans with an estimated value in excess of $2.5 million that will benefit faculty and students in both the College of Engineering and the College of Agricultural and Life Sciences.

When fully in place, the gift plans will establish several named endowments to benefit the NC State Department of Computer Science, including the:
Collins Distinguished Professorship in Computer Science
Collins Leadership and Computational Excellence Scholarship in Computer Science
Collins Computer Science Discretionary Fund
The establishment of the Collins Distinguished Professorship in Computer Science is intended to help the computer science department attract top talent to study ways to use data management and high-performance computing in development of large-scale business analytic solutions, while the Collins Leadership and Computational Excellence Scholarship in Computer Science will be awarded to top students who have demonstrated strong aptitude and interest in research and mathematics. The Collins Computer Science Discretionary Fund will give the department head additional resources to recruit students and faculty, provide support for student organizations, support lecture series and make faculty awards, among other initiatives.

In addition, the Collins' gift plans will establish the Margaret "Margie" P. Collins Fund for the College of Agricultural and Life Sciences, which will provide funds to support the JC Raulston Arboretum, the CALS Ambassador program, and CALS student scholarships.

The gifts, in the form of both outright and deferred planned estate gifts, are by far the largest planned gifts ever documented from an NC State computer science alumnus.

Keith Collins received his B.S. in computer science from NC State in 1982. Upon graduation, he spent two years at Texasgulf Chemicals where he worked as a scientific engineering programmer. Keith joined SAS Institute in 1984, where he has risen as a leader, currently serving as the Senior Vice President and Chief Technology Officer (CTO).

Keith is an active supporter of NC State. He was a founding member of the Computer Science Industrial Advisory Council, now the Strategic Advisory Board (SAB). Under his leadership and as a result of the Collins' generous support, the SAB established the Diversity in Computer Science Endowment to provide scholarship and programmatic support to help attract and retain under-represented students into the computer science discipline. In 2003, he became the first computer science alumnus to be recognized as a Distinguished Engineering Alumnus by the NC State University College of Engineering. He serves on the NC State Institute for Advanced Analytics' Executive Advisory Board, is an emeritus member of the department's SAB, was a former member of the NC State Engineering Foundation Board of Directors, and is a frequent speaker and panelist on campus. Outside of his university commitments, he serves as a technical advisor for Southern Capitol Ventures, and holds seats on the Board of Directors of North Carolina Technology Association, the Friends of the NC Museum of Natural Sciences, and the North Carolina School of Science and Mathematics.

Margie Collins received her B.S. in horticulture from NC State in 1979. After a successful career in nursery sales and management at Time Nursery she returned to NC State for accounting. After eight years as the local accountant for Hunton and Williams, one of the largest legal firms in the Southeast, she moved on to non-profits. Margie helped lead the accounting transition for the Friends of the NC Museum of Natural Sciences to open one of the premier natural science museums in the country. Not one to rest, Margie also helped transform the accounting for the Woman's Club of Raleigh where she has served three consecutive terms as Club Treasurer. She is an avid gardener and beachcomber, and her knowledge of horticulture and expert design skills are reflected in their beautiful home and garden .

Margie and Keith met as students at NC State in 1979. They reside in Raleigh.

For more information on giving options, click here.
~tate~
Return To News Homepage