CSC News
July 13, 2009
Alumni Achiever Profile: John Steensen
Alumnus Combines His Love of Poetry and Technology in New Book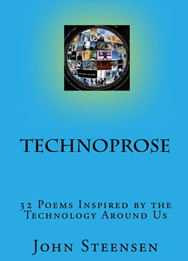 Many engineers have seen the poetry in technology, but John Steensen (BSBC '73) has put that poetry into words. As the author of the collection TechnoProse: 32 Poems Inspired by the Technology Around Us, Steensen examines how technology has become part of our lives in ways that range from humorous to thoughtful.
"I've written poetry my whole life, but only for special occasions, such as weddings, birthdays and church outings," Steensen says. "But I had never treated it as a professional thing, something to be published."
TechnoProse spun out of observations Steensen made about his own life. "I was writing some poetry about situations around the house, in particular my daughter with her Nintendo DS, and I thought, 'This is pretty interesting, perhaps I could get a book out of this, and it would introduce me to the world of publishing,'" Steensen says. His combining his loves of technology and poetry all comes from his lifelong motto: "Evolve yourself."
Steensen, whose day job is President of Spatial Dynamics Corporation, has always been fascinated with branching out into new areas. A native of Racine, Wisconsin, he moved to Durham at age 12, and was part of one of the first graduating classes from N.C. State's computer science program.
He started out working in electrical engineering, but as he found himself working with computers more and more, he became fascinated with their potential. He switched to computer science as his major, specializing in software development. "I found I was pretty good at it," he says. During his Junior and Senior year, he was working as a hardware technician and programmer at Dr. Martin's Hybrid Computing Lab (HCL) in the Riddick Building and even assisted in teaching a few classes.
Just before graduation, Texas Instruments approached him, intrigued by his background in both hardware and software. Initially reluctant to move to Austin, Steensen, who was used to eating at Arby's, was won over by the promise of a steak dinner at the Angus Barn Restaurant if he would just listen to what the job would involve.
"Frankly, I was fascinated once I heard that I would be working on the world's fastest supercomputers and what the job would entail, so I said, 'Okay, I'm moving to Austin,'" Steensen says. "And the dinner was superb."
He wound up staying in Texas until 1989, working for Texas Instruments and other companies in both Austin and Dallas. In 1989, he moved to California to take part in the "database wars" (Ingres, Oracle, Sybase and Informix) that were raging on the West Coast.
In 1992, tired of traveling the world and being away from his growing family, he had had enough and set up his own consulting company with offices only a five-minute walk from home. "I was always a workaholic," Steensen says. "I like to do a lot of different things and get a lot of things done. I never was one for sitting in one place and letting the grass grow under my feet."
His new position allowed him to spend more time with his wife and four children, while his company continued to grow until there were a half-dozen employees. In 2008 he scaled it back to just himself again, as he transitioned to information systems auditing.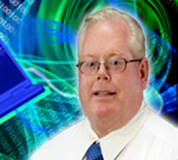 Steensen recently earned his Certified Information Systems Auditor (CISA) certification and currently does most of his work as an IS auditor, but has recently expanded into a new area – publishing.
In addition to TechnoProse, Steensen is working on a set of six auditing books in addition to three novels. Yes, that's nine books at once. "Being an engineer in my DNA, I have built a structure for these books, outlining them so writing them in parallel is actually faster than writing one at a time," Steensen says. "It's sort of the Henry Ford approach to book writing."
Steensen's auditing books will focus on emerging technologies and auditing. They're designed to help auditors get up to speed on what they need to know to understand new technologies. "Auditing and compliance regulations are usually years behind the technology curve, and in business, that's not acceptable," Steensen says. "As soon as new technologies become available they get sucked into businesses. Auditors need all the help they can get to deal with properly auditing those technologies."
His books are also designed to help increase compliance and oversight for companies as new technologies evolve in the marketplace. "There are two trends happening in the world of auditing," Steensen says. "One is society's desire for more compliance and oversight with more and more rules and regulations for companies. On the flip side is a technology juggernaut that's moving at a break-neck speed. Well, you can't have two trends like this colliding and not expect a lot of friction at the interface. So what I've decided to do is be a kind of grease at that point in the interface."
Steensen is devoted to "lifelong learning." He has nearly 6,000 books in his personal library, and constantly attends lectures and talks to learn about new uses of technology and energy. "There are very few areas of technology where I'm not willing to put my fingers in and learn," Steensen says. "I think one of my strengths is to see all these different things and pull them together in innovative ways."
In his off time, Steensen exercises by practicing the martial art of Krav Maga, a close-quarter self-defense fighting system used by the Israeli Defense Forces (IDF). He trained with his son, who was later stationed in downtown Baghdad for 15 months as a US Army military police officer.
"My son told me that the training he and I did together saved his life a number of times, and that's worth every drop of sweat." Steensen says. During one of the Krav Maga summer camps at the National Krav Maga Training Center in Los Angeles, he and his son had to start the day by running five miles in the soft sand on the beach and then spend the next 2 hours hand-to-hand fighting in four-foot-high surf. "We swallowed a significant portion of the Pacific Ocean that day," Steensen says.
For Steensen, constantly trying new things and learning new skills is just part of his nature. "I tend to like to do a lot of things in a burst of energy," Steensen says. "I'm not one of those people who just plods through things. I don't know if it's high energy or if I just have ADD."
He believes that the key to "evolving yourself" is to never stop learning. "Lifelong learning is absolutely essential in today's world," Steensen says. "If you are not a lifelong learner, you are probably destined for the scrap heap, unless you're able to win the lottery!"
"Over the years I've learned there are two ways things change: Either from external influences or internal influences," Steensen says. "You can either take charge of that change or not. While you can't change your DNA, you can change the way you react to the problems and challenges in your life. If I'm going to have to deal with change, I figure I might as well control as much as I can about the impact that change might have on my life and on my family. I think most people would like to do that, but a lot don't know how to make that happen. I'm still learning. After having received the blessings of a good education, especially 'learning how to learn,' at NC State, I'm finally ready to start giving back to a wider audience through writing."

-Smith-

Return To News Homepage