CSC News
July 01, 2009
Dutta Receives Funding to Build Outdoor Wireless Mesh Testbed on Centennial Campus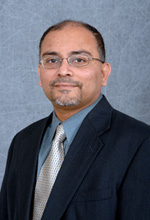 Dr. Rudra Dutta, associate professor of computer science at NC State University, has been awarded $149,960 by the Army Research Office (ARO) to fund his collaborative research with Dr. Mihail Sichitiu, associate professor in NC State's department of electrical and computer engineering. The proposal is titled "Centennial Outdoor Wireless Mesh Network Testbed for Research and Education (CentMesh)."

The award will run from June 16, 2009 through June 15, 2010.

Research Abstract: We propose to build an outdoor wireless mesh testbed comprised of a large number of low-cost experimental fabricated nodes and a small number of commercially available nodes. The testbed will be built in two stages: in the first stage, nodes placed on pushcarts will be temporarily placed outdoors for trials and tests; in the second phase, permanent antenna placements will be installed on equipment poles over a large area of the Centennial Campus of NC State University.

The testbed will leverage experience of, as well as enable the research of NCSU researchers participating in the Secure Open Systems Institute (SOSI), currently engaged in DoD, NSF, and other projects. Current and envisaged research activities of SOSI researchers address secure and redundant routing, energy-efficient routing, topology control, localization, cross-layer optimization, security and performance of SIP and VoIP, secure virtualization of network and compute resources, social networking. The proposed testbed will provide realistic large-scale outdoor wireless network environments for evaluating and validating the ideas, protocols and systems conceived from these activities. The data and experience gained from operating and managing a real network environment will also provide practical insights for students and researchers on the operation of large-scale heterogeneous mesh networks that help identify new security and performance problems and develop their practical solutions.

For more information on Dr. Dutta, click here.

~coates~

Return To News Homepage