CSC News
June 22, 2009
NC State Recognized as a 2009 Laureate for Cloud Computing Services
The Computerworld Honors Program recognized NC State University as a 2009 Laureate in the Education category for its VCL-based Cloud Computing Services case study in a medal ceremony at the Andrew W. Mellon Auditorium in Washington, D.C., on June 1, 2009.

Dr. Mladen Vouk, professor, computer science department head, and associate vice provost for information technology at NC State, accepted the medal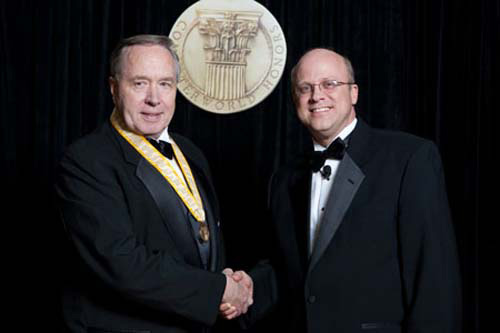 on behalf of the university. He is pictured here with Bob Carrigan, CEO of IDG Communications Worldwide, and Chairman of the Chairman's Committee at the Computerworld Honors Program.

Each year the Computerworld Honors Program recognizes people, organizations and institutions from around the world whose visionary application of information technology promotes positive social and economic progress.

This is the second time NC State has received this recognition. The university was honored as a 2007 Laureate in the category of education for its Virtual Computing Laboratory (VCL) project.

NC State has been researching VCL open source technology since 2003, and operating on-demand cloud computing services in production settings since 2004. VCL-based cloud computing was designed to deliver over-the-network on-demand and scheduled services that can give students access to advanced educational materials, select software applications, and comprehensive computing and storage resources. Only requiring an Internet connection, students and teachers can remotely access a desired set of applications and educational programs over the Web using a PC, laptop or Internet-enabled device anywhere, anytime. These applications, stored in a virtual cloud, can be tapped via the click of a mouse. Access is on-demand and offers a range of options from single desktops to classroom-sized labs, to collections of servers, to high-performance computing services.

The Computerworld Honors Program was founded by International Data Group (IDG) in 1988, and is governed by the not-for-profit Computerworld Information Technology Awards Foundation. In its 21st year, Computerworld Honors is the longest running global program to honor individuals and organizations that use information technology to benefit society.

The NC State Cloud Computing Services case study will be included as part of the Global Program Archives on six continents and in the permanent research collections of over 350 distinguished national archives, museums and institutions of higher learning.

For more information about the Computerworld Honors Program and to access the archive of past Laureate case studies and oral histories, click here.

For more information about VCL at NC State, click here.

~coates~

Return To News Homepage