CSC News
June 03, 2009
Department Hosts Congressman Bob Etheridge and Healthcare IT Forum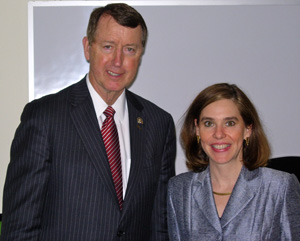 The Computer Science Department at NC State University welcomed US Rep. Bob Etheridge (D-Lillington, pictured with Dr. Annie Antón), the only North Carolina member on the House Ways and Means Committee, to campus for a Healthcare Information Technology (IT) Business Forum on June 1, 2009. The Forum included presentations from members of the medical community and others involved in research and development of solutions to healthcare IT issues.

Congressman Etheridge emphasized the Triangle area's growing national leadership in the healthcare IT field, and noted that Congress has allocated billions of dollars in economic recovery funds for state health IT implementation. He challenged North Carolina universities and organizations to work together to develop healthcare IT that improves the quality of patient care, saves money, and protects patients' healthcare choices. The Congressman and Forum participants plan to broaden the discussion of these challenges through more healthcare IT forums in the future.

Panelists included: Dr. Annie Antón, professor of computer science at NC State University, Ms. Teresa Chappell, Johnston Medical Center, Mr. Jason Burke, SAS Institute, Dr. Helen Pak-Harvey, IBM, and Mr. Sean Harrison, Alliance Medical Ministry. Representatives from Johnston Memorial Hospital, Chatham Hospital, Betsy Johnson Regional Hospital, Central Carolina Hospital, Wake Med, Wake Health Services, and others were also present.
Dr. Laurie Williams, associate professor of computer science at NC State, coordinated the Forum on behalf of the NC State Computer Science Department.

~coates~

Return To News Homepage