CSC News
May 20, 2009
Mueller Receives Google Award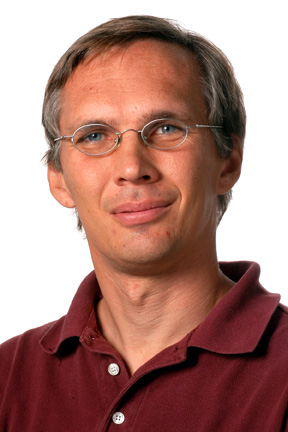 Dr. Frank Mueller, associate professor of computer science at NC State University, has received an unrestricted gift of $25,000 from Google to support his research on Teaching Embedded Systems with Android/the Google G1 Phone.

The Android Dev Phone 1 (G1) is a SIM-unlocked and hardware-unlocked device that is designed for advanced developers. Android is a software stack for mobile devices that includes an operating system, middleware and key applications. When building mobile applications, it's vital to test them on real devices prior to releasing them to users, so Google previously donated five unlocked G1 phones.

The donated phones were for a project on Ad-Hoc Networking between Android devices and are used for various classes, including the Real-Time and Embedded Systems class. Class projects for the recently completed Spring 2009 semester included: Ad-hoc Social Networking for the Google Android Platform; Service Time Overlay for Google Maps; Save Gas Application for Google G1 Dev Phone on Android Platform; and Android WIFI Social Networking.

For more information on Dr. Mueller, click here.

For more information on Google projects with Android, click here.
~coates~

Return To News Homepage