CSC News
May 22, 2009
Williams Receives Inaugural ACM SIGSOFT Influential Educator Award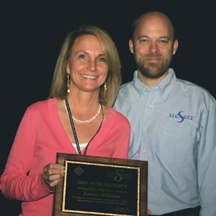 Dr. Laurie Williams, associate professor of computer science at NC State University, (shown with William Griswold, chair of ACM SIGSOFT) has been selected as the winner of the Association for Computing Machinery (ACM) 2009 SIGSOFT Influential Educator Award. This is the first year the award has been given.
Williams shared the honor with Dr. Nico Habermann, former faculty member, department head, and founding dean of computer science at Carnegie Mellon University, who was named, posthumously, a winner of the award.

The Special Interest Group on Software Engineering (SIGSOFT) Influential Educator Award is a new award designed to recognize outstanding commitment to education in the field of software engineering. The award will be presented annually to an educator who has made significant contributions to, and impact on, the field of software engineering with his/her accomplishments as a teacher, mentor, researcher (in education or learning), author, and/or policy maker. Williams' work on the use of pair programming as an educational tool was influential in her selection for the award.

The SIGSOFT award includes an honorarium, travel support, and a plaque recognizing the awardee's contributions. In addition, a public citation for the award will be placed on the SIGSOFT web site. The award was presented at the International Conference on Software Engineering (ICSE) '09 in Vancouver, British Columbia, Canada on May 21, 2009.

In being recognized for her significant and lasting contributions to software engineering and computer science education, Williams was particularly singled out for her outstanding work in propagating pair-programming as a widely adopted educational practice, her work in establishing an Open Seminar environment for Software Engineering, and in creating an Agile Software Engineering curriculum.
The ACM SIGSOFT provides a forum for computing professionals from industry, government and academia to examine principles, practices, and new research results from software engineering. SIGSOFT focuses on issues related to all aspects of software development and maintenance.

For more information on Dr. Williams, click here.
For more information on the Open Seminar on Software Engineering, click here.
For more information on the ACM SIGSOFT Influential Educator Award, click here.
Photo by Steve Easterbrook.

~coates~

Return To News Homepage