CSC News
April 23, 2009
Outstanding Graduate Teaching Assistants Recognized
The NC State University Department of Computer Science wishes to congratulate 12 of its most outstanding Teaching Assistants (TAs) who have been selected for Outstanding Graduate Teaching Assistant Awards by the University Graduate Student Association (UGSA).

TA award winners for computer science are listed below, along with their nominator: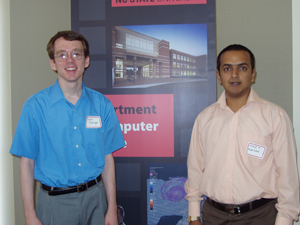 Derek Sollenberger (Drs. Munindar Singh and David Thuente)
Lauren Hayward (Dr. Laurie Williams and Tao Xie)
Brandon Mayes (Mr. Dana Lasher)
William Hendrix (Dr. Nagiza Samatova)
Mohan Iyer (Dr. George Rouskas)
Andrew Meneely (Dr. Tao Xie)
Brian Dellinger (Dr. Donald Bitzer)
Anjing Wang (Dr. Rudra Dutta)
Chung-Wei Hang (Dr. Munindar Singh)
Manik Chandrachud (Dr. Rada Chirkova)
Amit Awekar (Dr. David Thuente)
Yongmin Tan (Dr. Xiaochui Helen Gu)

Each was recognized and received an award at the 40th Annual Teaching Assistant Awards Luncheon and Ceremony on Friday, April 16th in the Talley Student Center Ballroom.

Two of our TAs, Amit Awekar and Brian Dellinger, received special recognition by being selected by the UGSA Teaching Effectiveness Committee to receive the NCSU Top 10 TA Award. Both were recognized at the awards ceremony and each received a $400 cash award.

The important work of all of these outstanding TAs is greatly valued and appreciated. Please join us in extending congratulations to them for their efforts and contributions.
~coates~
Return To News Homepage