CSC News
April 14, 2009
Puryear to Speak at Spring 2009 Diploma Ceremony on May 9th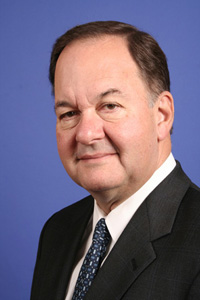 The NC State University Computer Science Department will hold its spring diploma ceremony on Saturday, May 9 at 1:30 p.m. in the main sanctuary at Providence Baptist Church, located at 6339 Glenwood Avenue, Raleigh (directions).

Alumnus and IT expert, Rudy Puryear (BS '74) will provide the keynote address. Puryear is the leader of Bain & Company's Global IT Practice, as well as a Bain partner in Chicago. He has more than 25 years of experience advising senior executives about leveraging technology to enable strategic change. He regularly speaks before businesses around the world, and his insights on e-business have been featured in publications such as Wall Street Journal, Fortune, Forbes and Financial Times. In June 2000, he was recognized by Consulting Magazine as one of the Top 25 Consultants in the World.

Prior to Bain, he was president and CEO of Lante Corporation, a leading eCommerce consulting company, where he managed a successful IPO in February 2000. He also served as Andersen Consulting's (Accenture) global managing partner for eCommerce and prior to that was responsible for building and leading the firm's IT strategy practice.

Puryear did his undergraduate and graduate studies in computer science at NC State University.

Approximately 115 graduates are expected to receive their degrees during the ceremony.

Our special thanks go to Super ePartner, AT&T, for their generous sponsorship of this event.

For the convenience of guests who might require overnight accommodations, there are a number of hotels located in the immediate area. We suggest the Hampton Inn Raleigh – Crabtree, located at 6209 Glenwood Avenue, (919) 782-1112, or click here.
NOTE TO GRADUATES: The first two rows of seats will be reserved for family and friends who wish to take photos. But please know that as each graduate is handed his/her diploma, a professional photographer will take his/her picture. A free color proof will be sent to each graduate's current mailing address, including a password for online viewing. There is no obligation to purchase prints. To receive email notification when photos are online, please visit www.photospecialties.com to pre-register. If a proof is not received within a week of the ceremony, please contact info@photospecialties.com or call 1-800-722-7033.
In addition, Providence Baptist Church provides ample free parking, comfortable accommodations, and professional AV capabilities allowing for live broadcast of the ceremony from multiple cameras angles. DVDs of the ceremony are available for a nominal $25 processing fee. Contact Tammy Coates for more information.
~coates~

Return To News Homepage