CSC News
April 13, 2009
CSC YE Pig Pickin' Planned for April 24 at Pullen Park
Computer Science students, faculty, staff, friends and families are invited to attend the 2009 ACM/AITP Computer Science Year-ending Pig Pickin' on Friday, April 24th.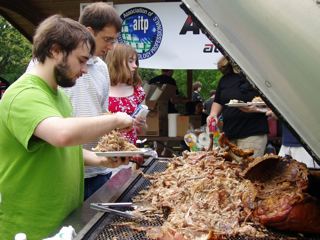 This year's event is co-sponsored by Cisco Systems and AT&T.
The Pig Pickin' is an annual tradition within the department, providing everyone a chance to unwind and celebrate the conclusion of another successful academic year.
When: Friday, April 24, 2009 from 4-6 pm
Where: Pullen Park Shelter #5 (Pullen Park adjoins the historic campus) map
Volleyball and Frisbees will be available, and there are lots of grassy areas for games and fun. Pullen Park also has a nicely equipped playground and a variety of rides (train, boats, carousel, etc.) for the kids.
The Pig Pickin' will feature BBQ, fried chicken, and all the traditional fixin's. Sodas and other refreshments will be provided by our Graduate Student Association (GSA), and a vegetarian spread will be provided by our Students and Technology in Academics, Research, and Service (STARS) student organization. Ice Cream will also be provided.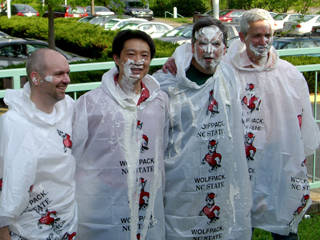 The food will be served around 4:30 pm, followed by an awards presentation, a prize raffle, and the ever-hilarious "Pie-a-Professor" event.
Students are encouraged to visit the 2008-09 Awards page (link) no later than April 20th and submit nominations for the various awards which will be presented.
We hope you will join us for this annual tradition.
Return To News Homepage