CSC News
March 23, 2009
Young Honored for Extension, Engagement, and Economic Development Efforts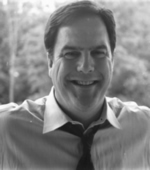 Dr. R. Michael Young, associate professor of computer science at NC State University, has been named an Outstanding Extension Service Award (OESA) recipient for the College of Engineering. Young has also been inducted into the Academy of Outstanding Faculty Engaged in Extension (AOFEE).

The purpose of the OESA awards is to encourage and recognize outstanding extension, engagement, and economic development activities by faculty and EPA employees of NC State University. A maximum of 25 awards may be made annually to NC State faculty. Young is the first OESA recipient from the department of computer science.

Extension, engagement, and economic development is a meaningful and beneficial collaboration between the university and external partners and communities. It is the part of teaching that enables learning beyond campus walls, the part of research that makes what is discovered useful beyond the academic community, and the part of service that directly benefits the public. Young is being honored for his achievements over the last five calendar years working with companies in the computer games industry. He was nominated by his colleagues, and is being recognized for his demonstrated expertise in his discipline as well as the ability to interpret, synthesize, adapt, and convey knowledge and information through traditional and non-traditional methods.

Winners of the college level OESA are eligible for membership into the Academy of Outstanding Faculty Engaged in Extension (AOFEE). Membership in the AOFEE includes all qualified faculty and professionals who have been recognized for outstanding extension work since 1978. Membership continues until the employee leaves the University or retires. The AOFEE is active in the promotion and recognition of excellence in extension and outreach at NC State and elsewhere. It is also active in stimulating and developing faculty and staff to address critical social problems and/or opportunities that require creative, interdisciplinary solutions or collaborations.

Young will be honored on April 20, 2009 during the "Celebrating the Engaged University" awards ceremony to be held at the McKimmon Center for Extension and Continuing Education.

For more information on Dr. Young, click here.

For more information on the Outstanding Extension Service Awards, click here.

~coates~
Return To News Homepage