CSC News
March 16, 2009
DGRC Brochure Wins American Graphic Design Award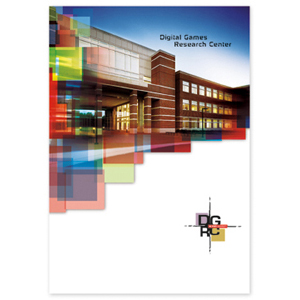 NC State's Digital Games Research Center's (DGRC) new brochure has received a 2008 American Graphic Design Award. The American Design Awards (ADA) is among the top internationally recognized design organizations, and perhaps the most popular independent awards organization globally with more than 35,000 submissions annually.

The brochure was designed by Liaison Design Group of Raleigh in collaboration with Dr. R. Michael Young, associate professor of Computer Science and co-director of the DGRC at NC State. It describes the research, teaching and extension efforts of the 16 DGRC faculty.

The American Graphic Design Awards, sponsored by Graphic Design USA (www.gdusa.com)—a monthly magazine for advertising and graphic design professionals—and Adobe Systems (www.adobe.com), is an annual national competition, which recognizes excellence in communication and graphic design. It is among the most prestigious of all such events with only 10% of entries honored this year. Winners are selected by a nationwide panel of judges. Categories include Annual Reports, Advertising, Brochures and Collateral, Direct Mail, Identity Design, Packaging, Exhibit Design and more. Winners were featured in Graphic Design USA's 300-page Annual published in December.

For more information on the American Graphic Design Award, click here.
For more information on the Liaison Design Group, click here.

For more information on the Digital Gaming Research Center, click here.

~coates~

Return To News Homepage