CSC News
January 07, 2009
Social Security
Dr. Ting Yu envisions a social network that everyone will trust.
So you log onto Facebook and see that one of your friends has recommended a new gaming application. You like games, so you click on the link and learn that the program will access your personal information before you sign up.

Do you trust it, or not?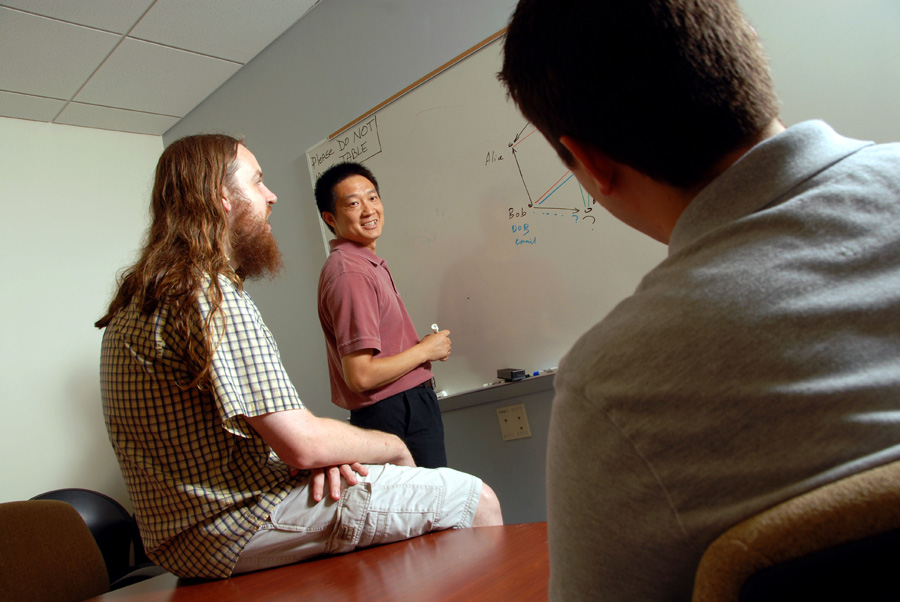 Dr. Ting Yu (center in photo) wants to help answer that question. Yu, assistant professor of computer science, is building a tool to help improve trust among users and applications in social networks. He's also looking at ways to allow researchers to study this growing social phenomenon without violating users' privacy.

"Trust and privacy issues are just unavoidable for such a popular system," said Yu, who joined the NC State faculty in 2003. "And I think if we have a very reliable and secure online social network it can benefit many people."

Aiding the research is a Faculty Early Career Development award from the National Science Foundation that Yu re-ceived earlier this year. The award, known as the NSF CAREER Award, is valued at $450,000 and runs from 2008 to 2013.

The funds will help Yu develop a tool that allows social network users to evaluate the trustworthiness of the applica-tions and people they meet online. Many Facebook applications such as Scrabble and Flixster, for example, were de-veloped by outside entities, and Yu wants to give users a way to decide if those applications are safe to use.

As these networks become more popular, researchers want to learn more about how people use them. Yu is developing a model that allows researchers to access large chunks of social network data without giving away users' personal in-formation.

So, if a researcher wants to learn more about online dating, Yu's model would allow the researcher to glean lots of general information without learning who has a crush on whom.

"We want to make it a safe, but still popular, environment," he said.
For more information on Dr. Yu, click here.
Story by Nate DeGraff. Photo by Roger Winstead. Originally published in the NC State Engineering Magazine - Fall 2008 issue.
Return To News Homepage