CSC News
January 08, 2009
Xie Receives 2008 IBM Jazz Innovation Award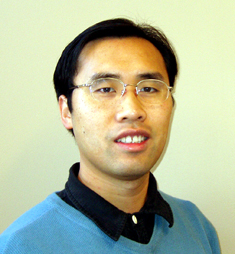 Dr. Tao Xie, assistant professor of computer science at NC State University, has received a 2008 IBM Jazz Innovation Award for his proposal entitled: "Mining Bug Reports and Test Execution on Jazz." Only 13 researchers around the world received these awards. The award is valued at $20,000.

IBM Jazz Innovation Awards recognize outstanding research projects based on the use of Jazz technology in academic research and education. Jazz is a flexible, extensible team collaboration platform for building integrated tools that support software development teams in virtually everything they do.

The Jazz platform provides a rich basis for research in many areas, including but not limited to: collaboration and awareness, configuration management, planning and work item management, process guidance, build, project health, reporting and visualization, repository mining (of code, work items, builds and other artifacts from all phases of the software lifecycle) and tailoring of environments for educational (classroom) use.

This is the second year that a professor from NC State University has received an IBM Jazz Innovation Award. Dr. Laurie Williams, associate professor of computer science, and Dr. Michael Devetsikiotis, professor of electrical and computer engineering, received one of five awards in 2007.

IBM is a valued Super ePartner with the department and is actively collaborating with our faculty and students on numerous programs and initiatives. NC State University is one of IBM's top suppliers of new graduate talent, worldwide.

For more information on Dr. Xie, click here.

For more information on the IBM Jazz Innovation Award, click here.
~coates~

Return To News Homepage