CSC News
December 18, 2008
Department Confers 177 Degrees During Fall Diploma Ceremony
On December 17, 2008, approximately 1,000 relatives and guests watched with pride as 177 degrees were conferred by the department during its Fall 2008 Diploma Ceremony held in the beautiful Meymandi Concert Hall at the Progress Energy Center for Performing Arts in downtown Raleigh.

This graduating class included 13 PhDs and 109 MS degrees, the largest number of advanced degrees ever awarded by the department in a single ceremony. Another 55 received BS degrees, expanding the department's alumni base to over 5,700.

The undergraduate class included three Valedictorians with perfect 4.0 GPAs: Joseph W. France, Stephen Thomas Kovic & Michael David Whitley. Two students were recognized (Joseph W. France & Matthew Allen Rakow) as members of the Computer Science Honors Program and the University Honors Program, and one (Ricky Patel) as a University Scholar. Overall, more than 36% of those receiving their B.S. degrees, graduated with honors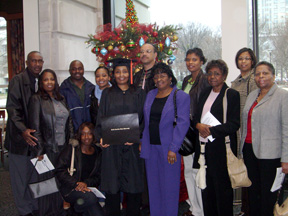 Every graduating class is filled with special stories of hard work and determination, and this class is no exception. BS recipient, Carolyn Buffaloe, shown here with her husband Elton and extended family, is one such special story. Carolyn transferred to NC State in 2004 after receiving an Associate Degree from Vance-Granville Community College in 1992. She completed her degree while working full time and commuting from her home in Warren County. She finished her coursework in August, and in September was named NC WISE (North Carolina Window of Information on Student Education) Coordinator for Warren County Schools. NC WISE is an electronic student accounting system that helps manage student and school information. It offers unprecedented opportunities for local educators to use technology to help them make better instructional and business decisions in their schools.

Dr. Mladen Vouk, department head, professor, and Associate Vice Provost for Information Technology, congratulated the graduates on their accomplishments. He cited recent projections of incredible career opportunities in the IT and computer science space and told them that despite the recent downturn in the economy, they are well prepared and positioned for exceptional opportunities during their careers.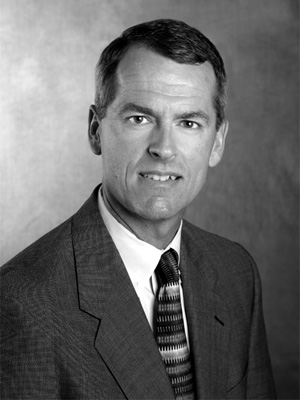 Alumnus Mark Wyatt (BS '80), VP of Smart Energy Systems with Duke Energy in Charlotte, served as keynote speaker for the event. Wyatt, who has held a variety of leadership and executive roles during his 28-year career with Duke Energy, is also active as a leader in various professional interests including the Charlotte Chamber's Information Technology Council and the North Carolina Technology Association. Wyatt has also been a strong supporter of NC State University, serving as a member of the Physical and Mathematical Sciences Foundation's Board of Directors, and is currently the Vice Chair for the Department of Computer Science's Strategic Advisory Board.

In his comments, Wyatt left the graduates with four thoughts:
This is a time of celebration; be proud of what you have accomplished and take time to enjoy those accomplishments.
Do not view the world you are transitioning into with fear; view it as one of your greatest opportunities; you are well positioned to make a significant difference in the world around you.
Actively seek out opportunities where you can apply your skills and talents; utilize your "experiences" to make a difference.
Stay actively engaged with your university. This institution has achieved its level of excellence due in large part to the many contributions of past alumni.
On behalf of all alumni, Wyatt thanked the graduates in advance for all that they will do for their university going forward.
Special entertainment was provided by local musician, Jennifer Harrenstein.

Special thanks to Red Hat, the ePartners Program and its participating corporate sponsors, and the NC State Engineering Foundation for sponsoring this very special event.
Return To News Homepage