CSC News
November 24, 2008
Singh Honored as IEEE Fellow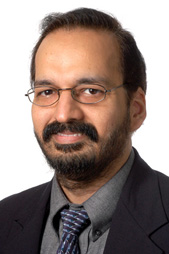 For the past 13 years, Dr. Munindar P. Singh, professor of computer science at NC State University, has worked to uncover the mysteries of how machines talk to each other. Now, he is being honored for his body of work by the Institute of Electrical and Electronics Engineers, which recently voted to make him an IEEE Fellow.
Singh becomes the department's third IEEE Fellow, following in the footsteps of Drs. Donald Bitzer and Mladen Vouk, who were selected in 1982 and 2001 respectively.
"It feels very good to receive this award," Singh says. "It is always an honor to be recognized for your work."
Singh, who received a B.Tech. in Computer Science and Engineering from the Indian Institute of Technology, Delhi in 1986 and a Ph.D. in Computer Sciences from the University of Texas at Austin in 1993, has been at NC State since 1995. He has published more than 250 articles, and has authored or co-authored numerous books, including Multiagent Systems (Springer-Verlag, 1994) and Service-Oriented Computing: Semantics, Processes, Agents with Michael N. Huhns (Wiley, 2005).
Singh's specialty is in the field of multiagent systems, specifying and analyzing how autonomous agents created by different people communicate. Singh works closely in understanding how computer systems interact, and works to help program computers in a way to help them collaborate more effectively.
"Originally, computers were as big as a room and worked to process data within a closed system," Singh says. "In contrast with the old days, computers – whether they be on desks or in cellphones or in cars or in the big data centers – they're all talking to each other all the time. The nature of computing has changed from what happens inside one box to what happens when all the different boxes interact."
Even simple processes are affected by multiagent systems, Singh says. "If you order a book off Amazon, there're many computers involved – there's your computer, the computer on Amazon.com, the computer of the shipping company, the computers of the various banks involved in taking care of the payment, the computers of the book's publisher, the computers of the warehouse where the copies of the book are kept. It's a great number of parties interacting to make things work."
Singh's interest in multiagent systems coincided with the rise of the World Wide Web. He soon saw how the idea of multiagent systems could apply to this new medium. "Everybody's using the web in some, shape or form," Singh says. "But software engineers are often still using techniques that were developed long before the web came into being."
His research has led to companies looking to use his techniques to help get more value from their systems. His work is particularly relevant to finance and health care.
"In the health care industry, the challenges involve things like how information goes from a physician to a specialist, how do they order lab work, how the lab sends results back to a physician, how that information gets to the insurance company," Singh says. "Some health care and finance industry specialists have been using my work to help model their applications, and I hope there'll be more of that in the next several years."
For more info on Dr. Munindar Singh, click here.
~smith~

Return To News Homepage