CSC News
November 21, 2008
Savage Featured in 2009 "12 Theorems by Women Mathematicians" Calendar
The work of Dr. Carla Savage, professor of computer science at NC State University, will be featured in the 2009 "12 Theorems by Women Mathematicians" Calendar.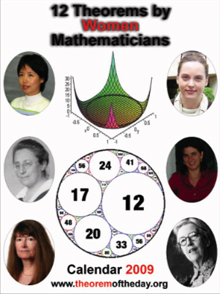 The "Polynomial Coprimality Theorem", from Savage's joint paper with Sylvie Corteel, Herbert S. Wilf, and Doron Zeilberger in 1998, is the featured April 2009 theorem. Savage is also featured on the calendar's cover page (bottom left).

The calendar, in its second year of publication by theoremoftheday.org, was created to showcase theorems proved, or jointly proved, by women.

According to Robin Whitty of London, who maintains the theoremoftheday.org site, it is easy to find "plenty of beautiful theorems" proven, or jointly proven, by women. The more difficult task is selecting theorems to which justice might be done within the one-page format of Theorem of the Day. "The goal is that every theorem should be illustrated concretely enough that even a non-mathematician should be offered something to think about," says Whitty.

To view the calendar and its downloadable pdf components, visit here.

For more information on Dr. Savage, click here.
Return To News Homepage