CSC News
November 18, 2008
Antón Named to Future of Privacy Forum Advisory Board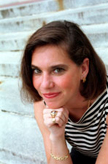 Dr. Annie Antón, professor of computer science at NC State University, has been named as a member of the Future of Privacy Forum (FPF) Advisory Board.

The FPF is a think tank led by privacy experts Jules Polonetsky and Christopher Wolf and includes an Advisory Board comprised of leading figures from industry, academia, law and advocacy groups. The Future of Privacy Forum's initial support is provided by AT&T.
FPF advocates for privacy advances that promote transparency and user control in a manner that is practical for business to implement to ensure personal autonomy for all who seek to embrace the benefits of our digital society.
Members of the FPF Advisory Committee will provide input to the Forum in support of transparency, user control and the advancement of responsible data practices. By serving as Advisors, they are not responsible for the content of the Web Site nor do they necessarily endorse the positions taken by FPF. Advisors serve in a personal capacity and their affiliation does not indicate the endorsement of their corporation or organization.
Advisory Board members include:
1. Annie I. Antón, Professor of Computer Science, College of Engineering, North Carolina State University.
2. Dorothy Attwood, Senior Vice President, Public Policy and Chief Privacy Officer, AT&T
3. Jodie Bernstein Partner, Bryan Cave and former director of the Bureau of Consumer Protection at the Federal Trade Commission
4. Bruce Boyden, Assistant Professor of Law, Marquette University Law School
5. Maureen Cooney, Chief Privacy Officer and Vice President for Public Policy, TRUSTe
6. Peter Cullen, Chief Privacy Strategist, Microsoft
7. Mary Culnan, Slade Professor of Management and Information Technology, Bentley University
8. Simon Davies, Director, Privacy International
9. Carol DiBattiste, Senior Vice President Privacy, Security, Compliance and Government Affairs, LexisNexis
10. Benjamin Edelman, Assistant Professor, Harvard Business School
11. Ira Friedman, Senior Vice President, MetLife
12. David Hoffman, Director of Security Policy and Global Privacy Officer, Intel
13. Chris Hoofnagle, Director, Berkeley Center for Law & Technology's information privacy programs and senior fellow to the Samuelson Law, Technology & Public Policy Clinic
14. Chris Kelly, Chief Privacy Officer and Head of Global Public Policy, Facebook
15. Nuala O'Connor Kelly, Senior Counsel, Information Governance & Privacy, GE
16. Brian Knapp, Chief Privacy Officer and Vice President, Corporate Affairs, Loopt
17. Adam Palmer, Law & Policy Counsel, .ORG, The Public Interest Registry
18. Harriet Pearson, Chief Privacy Officer & VP Regulatory Policy, IBM
19. Ari Schwartz, Vice President and Chief Operating Officer, Center for Democracy and Technology (CDT)
20. Paul Schwartz, Professor of Law, University of California-Berkeley School of Law
21. Daniel Solove, Professor of Law, George Washington University Law School
22. Zoe Strickland, Vice President, Chief Privacy Officer, Walmart
23. Peter Swire, C. William O'Neill Professor of Law at the Moritz College of Law of the Ohio State University, Senior Fellow, Center for American Progress
24. Daniel J Weitzner, Director of the MIT CSAIL Decentralized Information Group, Director, Technology and Society activities, World Wide Web Consortium (W3C)
For more information, consult http://www.futureofprivacy.org/.
Return To News Homepage