CSC News
November 12, 2008
Miller to Retire at End of Academic Year
Alumnus Jay Strickland Makes "Challenge'" Pledge to Establish Endowment in Her Honor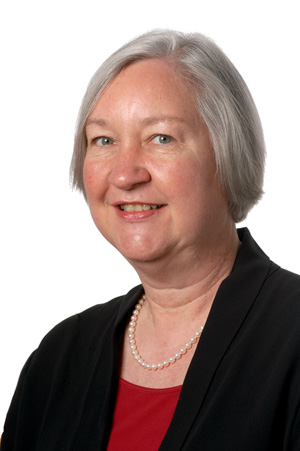 After 24 years of distinguished service as a lecturer at NC State University's Department of Computer Science,
Carol Miller
has announced her intentions to retire at the end of the 2008-2009 academic year.
Miller has taught at NC State since 1985, and is currently the only lecturer in the department who teaches full time. She has stayed deeply involved with students during her time at NC State, including serving almost 20 years as the faculty advisor for the ACM student organization.
"I'm most proud of how my kids have done – 'kids' being the four or five thousand students I've had over the years," Miller says. "I've kept in touch with so many of them, and many have kept in touch with me."
Over the years, she has left an unforgettable impression on her students, many of whom have gone on to start their own companies or to achieve high-ranking corporate positions. One such alum,
Jay Strickland
, is honoring Miller's legacy by making a generous $25,000 "challenge" pledge to his fellow alumni, to help create an endowment in her honor.
The new endowment, the
Carol Miller Student Leadership Endowment
, is intended to pay tribute to Miller's legacy as a teacher, mentor, advisor, advocate, and friend to thousands of students over her career. Proceeds from the endowment will be used for students, student organizations or student programs, emphasizing undergraduate students in need of resources to explore new and innovative paths.
Strickland, who is the founder and president of WingSwept, an IT consulting company based in Garner, studied under and worked with Miller from 1995 to 1997, and credits her for getting him into web programming, the heart of his business.
"The web was fairly new then, and almost no one was doing anything with web programming," Strickland says. "(Miller's) teaching was very real-world and very applied. She was just a great teacher who made the material seem almost lifelike."
"She caused me to change my major from Electrical Engineering to Computer Science. I, and many of my fellow students, planned our schedules around the sections that she was teaching. She was someone who was easy to talk to in or out of the classroom."
When he found out Miller was retiring, Strickland wanted to give back to the Computer Science department. "It is intended to be a lasting tribute to her," Strickland says. He's challenging his fellow alumni to help him honor Miller through donations to the endowment. "We will match donations dollar-for-dollar up to the first $25,000, in hopes of building a $50,000 base," Strickland says.
Miller says that she is honored by Strickland's generous endowment challenge, and that she feels she's leaving the department on a high note. "It's time for me to move on to the next stage of my life – to travel, and to make some room for some younger faces and fresh ideas," Miller says.
But while new faces may take Miller's place at NC State, the Carol Miller Student Leadership Endowment will help ensure that her name will remain synonymous with students whose hard work and inspiration drive them toward great achievements.
Individuals or corporations interested in contributing to this fund can complete and submit a
pledge form
along with a check made payable to the "NC State Engineering Foundation" noting for the "Carol Miller Student Leadership Endowment" in the memo section. Donations can be sent to the NC State Department of Computer Science, Attn: Ken Tate, Campus Box 8206, Raleigh, NC 27695.
~Smith~

Return To News Homepage