CSC News
November 07, 2008
College of Engineering at NC State Names Outstanding Alumni
Computer Science Alumnus, Bobby Ray Johnson, Jr., Among Those Honored.
The College of Engineering at North Carolina State University has named the
Distinguished Engineering Alumnus
award winners for 2008. The recipients are
Bobby Ray Johnson Jr
. of San Jose, Calif., co-founder and chief executive of Foundry Networks;
Gayle Lanier
of Raleigh, a Nortel executive and NC State Board of Trustees member; and
Scot Wingo
of Raleigh, co-founder and chief executive of ChannelAdvisor Corp.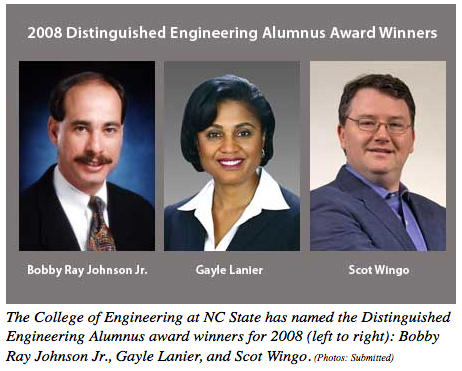 The awards were presented by
Dr. Louis A. Martin-Vega
, dean of the College of Engineering, at a banquet held Nov. 6 at the Capital City Club in Raleigh. The award honors alumni whose accomplishments further their field and reflect favorably on the university.
Johnson, a North Carolina native, received his bachelor's degree in computer science with honors in 1977 from NC State. He has built a highly successful 31-year career in the networking industry, including a total of 16 years as chief executive officer for three companies and 14 years as chairman of two companies.
He is the co-founder of Foundry Networks and has served as president and CEO since its inception in May 1996. He also served as its chairman from May 1996 until January 2007. The company has earned more than 65 corporate and product awards, including "IPO of the Year for 1999." Johnson has been recognized by distinguished publications such as Forbes, Fortune and Network World and has been active as a keynote speaker and panelist at networking industry events. Additionally, he has been a guest speaker at Stanford University's Business School and the National Defense University's Industrial College of the Armed Forces.
Johnson has generated significant support for NC State through the years from personal and corporate donations and has hosted groups of students with the NC State Engineering Entrepreneurs Program during spring break trips to Silicon Valley.
Lanier received her bachelor's degree in industrial engineering from NC State in 1982. She has held increasingly responsible management positions in technology, business line management, product introduction and design and development. In her current position as vice president and general manager of Nortel Knowledge Services, she has global responsibility for Nortel's strategic direction and performance for technical training, documentation, sales training, and employee training and development.
She has served as Nortel's representative on the NC State University National Minority Engineering Programs Advisory Board, the NC State Computer Science Strategic Advisory Board, and the advisory board of Women in Science and Engineering, or WISE. Lanier previously served on the NC State Board of Visitors and is a current Trustee of the NC State Kenan Institute for Engineering, Science and Technology. She has been a generous supporter of the College of Engineering, making many unrestricted gifts to support freshman scholarships and other initiatives.
In 2003, Lanier and her husband established the Dwain K. and Gayle S. Lanier Scholarship Endowment to benefit engineering students. In 2007, She received the Distinguished Alumna Award from the Edward P. Fitts Department of Industrial and Systems Engineering and was appointed to the NC State Board of Trustees by Gov. Mike Easley.
Wingo received his master's degree in computer engineering from NC State in 1992. He is a technology entrepreneur who has used his business acumen to found several successful companies.
He is currently president and chief executive officer of Morrisville-based ChannelAdvisor Corp., which enables leading online retailers to maximize their product exposure across multiple e-commerce channels such as eBay, Google, Amazon.com and Overstock.com. The company managed more than $2.7 billion in gross merchandise value on behalf of its customers in 2007, up almost 70 percent from the previous year. He also co-founded and sold Stingray Software and AuctionRover.com.
Wingo has authored a number of technology and business books - including the popular
eBay Strategies: 10 Proven Methods to Maximize your eBay Business
- and was named Ernst & Young's Technology Entrepreneur of the Year in 2004. He has also been honored as one of the Triangle Business Journal's "40 under 40."
Wingo has established a generous endowment for the NC State Engineering Entrepreneurs Program and serves as chairman of its advisory board. He also serves on the board of the NC State Engineering Foundation and is a popular speaker at College events.
Return To News Homepage