CSC News
November 04, 2008
Student Game Selected as Finalist in I/ITSEC Serious Game Challenge
Congratulations to
Joe France
(senior, CSC),
Jess Frucht
(senior, ID),
Ryan Gerleve
(alum, CSC),
Rhys Harwell
(alum, ID),
Matt Klawiter
(Ph.D., CSC),
Amanda Macik
(alum, CSC) and
Thomas Silloway
(alum, CSC), whose collaborative game project has been selected as a finalist in the
Interservice/Industry Training, Simulation and Education Conference's (I/ITSEC) Serious Game Challenge
to be held in early December in Orlando, FL.
I/ITSEC is the largest industry conference focused on military simulation, training and serious games. The Serious Game Challenge is a competition held at the conference to identify innovative game-based technologies and solutions that improve training across all segments for individuals, groups and systems.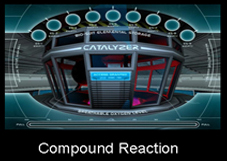 The students' game,
Compound Reaction
, was created in
Dr. Michael Young's
CSC482 game development project course and teaches introductory concepts from molecular-level chemistry. The team worked with two design constraints when creating its game. First, the game needed to involve construction-based gameplay. Second, it needed to have an educational or instructional focus.
In
Compound Reaction
, a lost space traveler is forced to make an emergency landing at an abandoned bio-dome located on an uninhabited planet. The bio-dome is nearly devoid of power, save for its giant microscope, which holds the secrets to the dome's past and the only chance for escape. The goals of the game are to explore a forgotten world, discovering crucial elements and upgrades that hold the key to the player's escape; to build molecular compounds at the atomic level, dodging and shooting atoms to form new substances; to escape with the help of the Keeper – the solitary remaining robot active in the bio-dome.
"We put ourselves into this game, and we're very proud that our hard work is paying off," said France. "We hope this game will give the players a new view of chemistry that excites and teaches simultaneously."
~forcina~
Return To News Homepage