CSC News
October 27, 2008
Department Launches Facebook Page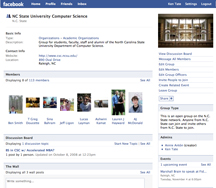 The NC State Department of Computer Science has launched a Facebook page and all students, alumni, faculty, and staff are invited to join.
The new Facebook page will include major event notices, photos, videos, a discussion board, links to members and much more.
Administrators
Ken Tate
&
Dr. Annie Antón
hope the new social networking site will become a hub of interaction and engagement.
The NC State University Computer Science group is an open group on the N.C. State network. Anyone from N.C. State can join and invite others from N.C. State to join.
Return To News Homepage