CSC News
October 15, 2008
NC State Breaks New Ground in Virtual Research Collaboration
University unveils new Cisco TelePresence Room dedicated to connecting researchers worldwide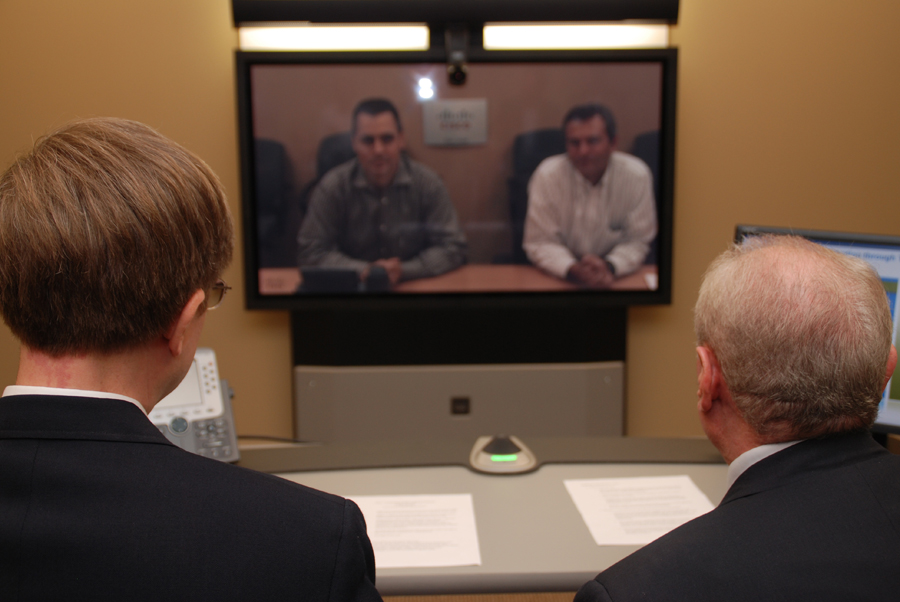 Dr. Louis Martin-Vega
, dean of North Carolina State University's College of Engineering, and
Dr. Douglas Comer
, vice president of engineering for the Cisco Research Center unveiled on Oct. 13 a new Cisco TelePresence room at the school. (
photos by Nate DeGraff
)
NC State University is one of the first universities forging new ground in higher education by employing Cisco TelePresence, a breakthrough technology for virtual meetings, to collaborate "in person" with researchers around the world. NC State received Cisco TelePresence as part of Cisco's University Exchange Program, which was created to facilitate research collaboration among select universities.
"Cisco TelePresence is an exciting and generous gift from a valued research partner," Martin-Vega said. "We are delighted to be one of the first universities using this technology and look forward to an enhanced research relationship with Cisco. We are grateful for its support."
Cisco developed Cisco TelePresence as a way to connect people face-to-face without the time, expense, and lost productivity associated with long-distance travel. Recognizing that more than 60 percent of communication is non-verbal, Cisco TelePresence gives users a chance to gauge the body language, facial expressions and subtleties in tone of their counterparts thousands of miles away. Cisco TelePresence reduces the need to travel and therefore lowers carbon emissions. The technology also gives users more control over their time than travel, improving quality of life.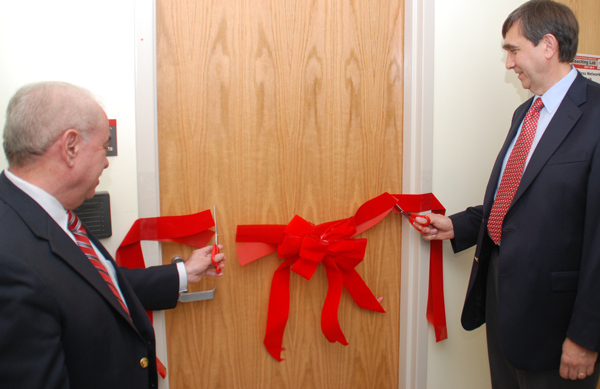 "Cisco TelePresence offers a richness of communication that will make knowledge sharing between NC State, Cisco and other universities much easier," said Dr. Comer. "Cisco has a long research partnership with NC State University. We look forward to enhancing the interaction and work of faculty and Cisco researchers, and helping to advance innovation in many areas."
NC State and Cisco unveiled the Cisco TelePresence system at a ribbon-cutting ceremony Oct. 13 in Engineering Building II on Centennial Campus. The gift continues the longstanding research relationship between Cisco and NC State, which includes NC State's Center for Advanced Computing and Communication, Virtual Computing Laboratory and Secure Open Systems Initiative.
About the College of Engineering at North Carolina State University
Located in Raleigh, North Carolina, NC State University's College of Engineering is a leading research, teaching and outreach engineering college offering 18 bachelor's, 17 master's and 13 doctoral degree programs. As the largest engineering college in North Carolina and the largest college within the University, the College of Engineering is ranked 19th among public research colleges of engineering by US News & World Report and 25th in the world according to the Academic Ranking of World Universities developed by the Institute of Higher Education of the Shanghai Jiao Tong University. Annual enrollment in the college exceeds 8,000 students with more than 5,900 undergraduates and more than 2,000 graduate students. The College of Engineering offers traditional degree programs as well as 10 online engineering master's degrees.
About Cisco
Cisco, (NASDAQ: CSCO), is the worldwide leader in networking that transforms how people connect, communicate and collaborate. Cisco is headquartered in San Jose, Calif. and operates a facility in Research Triangle Park, N.C. with approximately 3,700 full-time employees.
Information about Cisco can be found at
http://www.cisco.com
. For ongoing news, please go to
http://newsroom.cisco.com
.

Provided with Permission from Engineering Communications
Return To News Homepage