CSC News
October 15, 2008
Fidelity Investments "Leadership in Technology" Series Presents Marshall Brain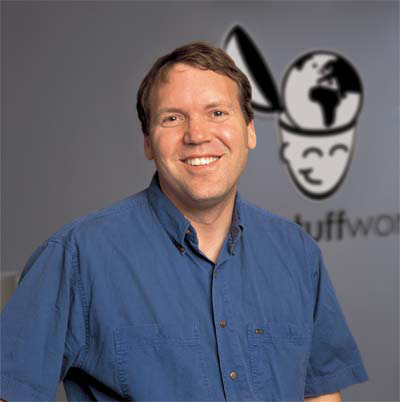 Please join us on
November 4th at 6 pm in Lecture Hall 1231 EB2
for the next talk in the
Fidelity Investments "Leadership in Technology" Executive Speakers Series
.
Our special guest speaker will be
Marshall Brain
(
bio
), author, TV personality, and founder of HowStuffWorks.com. His talk topic will be "
The Accidental Entrepreneur
".
Brain (and yes, that is his real name) is an alum of the NC State Department of Computer Science, and has written more than a dozen books including
Manna
,
How Much Does the Earth Weigh?
, and
The Teenager's Guide to the Real World
, now in its tenth printing and selected for the New York Public Library's prestigious "
Books for the Teen Age
" list.
An accomplished speaker with an uncanny ability to deliver complex material in a manner that is easily understood by audiences of all types, Brain is a regular guest on radio and TV programs nationwide. He has been featured on CNN, CNN Headline News, Modern Marvels, Martha Stewart Living Radio, and The Oprah Winfrey Show. In 2007, he was featured as the host of the National Geographic channel's "
Who Knew? With Marshall Brain
", a series of one-hour fact-filled episodes taking the viewer on a journey into the world of product design, manufacturing and testing.
Abstract:
Marshall Brain will discuss his experiences starting three very successful businesses, all by accident. He will share lessons learned and insights that attendees might find beneficial in their life journey. He will also tell you where he is headed next.
The event is free and open to the public. Ample free parking is also available.
For directions and more information, visit the
series page
or contact
Ken Tate
.
Return To News Homepage