CSC News
September 23, 2008
ePartners Career Connection Scheduled for September 29th
On
Monday, September 29th
, the NC State Department of Computer Science will host its annual
ePartners Career Connection
event,
12-4 pm in EB2
. This recruiting and networking fair is provided exclusively for the benefit of computer science students and the department's most valued corporate partners.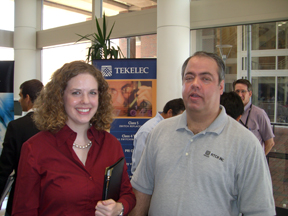 This will be the department's largest Career Connection event ever with at least 18 companies scheduled to participate including:
BCBS of NC, Cisco Systems, Data Domain, Duke Energy, EMC, Fidelity Investments, First Citizens, Harris Corporation, IBM, Lulu, NetApp, Northrop Grumman, Progress Energy, Prometheus Group, Tekelec, Thomson Reuters, Vanguard,
and
Werum Software
.
While each company participating has unique needs, the spectrum of career opportunities span coop, intern, part-time and full-time opportunities.
Students are asked to bring their resumes and dress professionally. Students are also asked to update their resumes online through the department's ePartners Resume Database, as many event participants have indicated they will be pre-screening potential candidates and extending targeted invitations.
Participating companies will have tables and displays located in the
east atrium on the ground floor, as well as in Rooms 3001 & 3002 in the 3rd floor bridge of EB2 (the Progress Energy Conference Rooms).
At least 300 computer science students are expected to participate in the event.
Return To News Homepage