CSC News
September 18, 2008
Croatian Artist Donates Algorithmic Artwork to Department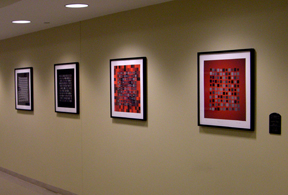 Students and visitors to the east wing of EB2, the home of NC State's Department of Computer Science, will notice many facilities-related enhancements made over the summer months.
Most notable is the addition of a visually striking series of four limited edition prints donated to the department by Croatian artist,
Dr. Vlatko Ceric
.
The prints have a distinctive connection with the computer science discipline as they represent an art form known as "algorithmic art", or artwork generated by the execution of specific algorithms (or computer programs). No image editing with software like Photoshop is done in any stage of image generation.
The donated prints are from Dr. Ceric's "Cartesian Rhythm" series, and they are prominently located outside the classrooms on the main floor of EB2's east wing, where they will be enjoyed by students, faculty, staff and visitors for years to come.
About the Artist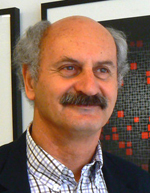 Dr. Vlatko Ceric was born in Zagreb, Croatia where he currently resides. He is a professor of computing at the University of Zagreb. He has more than 30 years experience in computer generated graphic art. Since he started exhibiting his artwork in 2005, he has been featured in exhibits at a number of international print and digital art exhibitions in Europe, Australia and the United States. His works are displayed in several public collections in Europe and Australia. They are also exhibited in a number of university classrooms and laboratories, scientific institutes and information technology companies. His works are represented by the Rhonda Schaller Studio gallery in New York City in the framework of their Art Link network. He is a member of the Croatian Association of Artists and of the ARTROM Gallery Guild based in Rome, Italy. For more information, consult his website at
http://www.vceric.net
.
Return To News Homepage