CSC News
September 19, 2008
Fidelity Investments "Leadership in Technology" Series Presents Jim Davis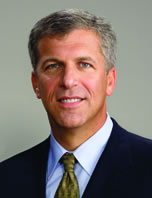 Please join us on
October 14 at 6 pm in Lecture Hall 1231 EBII
for the next talk in the
Fidelity Investments "Leadership in Technology" Executive Speakers Series
.
Our special guest speaker will be
Jim Davis
(
bio
), Sr. VP and Chief Marketing Officer of
SAS Institute
. Davis, an alum of the NC State Department of Computer Science, is responsible for providing strategic direction for SAS products, solutions and services and presenting the SAS brand worldwide. Additionally, he oversees a number of operational units including Publications, Education, SAS OnDemand hosting, and Alliances and Channels.
His talk topic will be "
Executive Insights".


Abstract:
Jim Davis will share insights on leading a technology company in an information-intensive global economy. He will also share strategies from his 2006 book,
Information Revolution: Using the information Evolution Model to Grow your Business,
and how organizations around the world are literally transforming companies around information.
The event is free and open to the public. Ample free parking is also available.
For directions and more information, visit the
series page
or contact
Ken Tate
.
Return To News Homepage