CSC News
August 18, 2008
Fidelity Investments "Leadership in Technology" Series Presents Michael Capps
Please join us on
September 18th at 6 pm in Lecture Hall 1231 EBII
for our first fall talk in the
Fidelity Investments "Leadership in Technology" Executive Speakers Series
.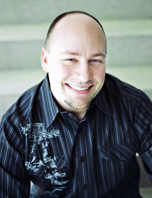 Our special guest speaker will be
Michael Capps
(
bio
), President of
Epic Games
. Under Capps' leadership, Epic has created multiple million-selling, award-winning titles in its "Unreal" series, as well as the 2006 Game of the Year "Gears of War," which has sold over 4.7 million copies. Epic is also responsible for the Unreal Engine, which is the underlying technology for a wide range of games including 2K Games' 2007 Game of the Year "BioShock" and BioWare's 2007 RPG of the Year "Mass Effect."
His talk topic will be "
Building the Perfect Team
".
Abstract: Every great game starts with a great development team. Sadly, not every game begins with a great team that's ready to work, so you'll need to build that great team and hone it to perfection. This session starts with a discussion of patterns seen in successful game teams, then offers ideas on how to get a great team to full production capacity whether you're starting a sequel or starting from scratch. Special attention will be given to best practices for the big responsibilities of management, including hiring, firing, mentoring, performance reviews, immigration, and team morale.
The event is free and open to the public. Ample free parking is also available.
For directions and more information, visit the
series page
or contact
Ken Tate
.
Return To News Homepage