CSC News
July 29, 2008
India Trip Yields Professor Direct Exposure to Challenges Facing U.S.
This past May, one of N.C. State's computer science professors,
Dr. Alan L. Tharp
, had the opportunity to visit India where he taught a course to the employees of Infosys, an Indian software company. In an effort to make its employees the best in the world and to gauge where they are in that quest, Infosys had Tharp teach a course that is equivalent to NC State's Computer Science
541 – Advanced Data Structures
– which focused on data structures for improving computer response times. It was compressed from a 15-week course to a three-week course.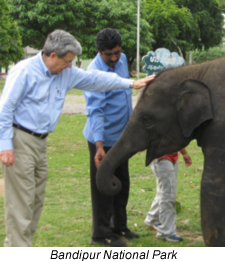 Believed to be the first professor from the United States to teach at the Indian company, Tharp was joined by computer science doctoral student,
Pankaj Chopra
, who served as the teaching assistant for the course. Tharp and Chopra taught every business day.
One goal of the trip was to observe changes in India and how they were affecting the software industry in the US "I wanted to see firsthand what was happening and what NC State and the United States need to do to remain competitive in a global economy," Tharp said.
During his more than three weeks in India, he recorded many observations regarding India, its people, its education and future. His complete list of observations is available at
http://people.engr.ncsu.edu/tharp/Observations.htm
.
Among his observations, one of the most significant experiences he observed was the success of the students and the course. Tharp said the students in the class were enthusiastic about learning the material, asked excellent questions, which gave insights into understanding the material, and suggested many ways to possibly improve the data structures and algorithms.
"The students seemed to enjoy learning," Tharp said. "The top students in the course equaled or exceeded the performance of students at NC State. The attendance was perfect or near perfect each day, and 27 of the 28 students who began the course completed it."
In addition, Tharp said the Infosys Mysore campus is one of the most beautiful in the world. "Each building has a different and stunning architecture," he said. "It has immaculate, picture-perfect, tropical landscaping. However, what sets it apart is that it has minimal motorized vehicular traffic on a campus about the size of NC State's historic campus. The lower noise and emissions levels make it a relaxing and serene environment."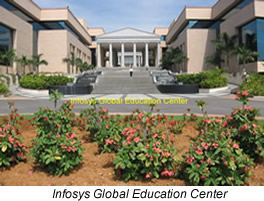 Tharp primarily observed that India is changing rapidly and has been challenged to provide infrastructure to cope with its rapid growth. He also observed that many products and processes at Infosys and in India were better than those he encountered before. As Tharp observed India has the ability to compete readily in the global marketplace because of its large population and its use of English as the de facto national language. The US will not be able to compete with India on the basis of numbers.
"Since a relatively small percentage of India's population are now involved in software and engineering, it has considerable opportunity for growth in these areas," Tharp said.
Through his observations, Tharp concluded that though NC State does not have a relationship with Infosys, it could help NC State's students if it established a branch campus in India, perhaps in cooperation with Infosys.
According to
Dr. Mladen Vouk
, computer science department head, the department is considering a number of international partnerships and opportunities with a focus on strengthening research collaboration and offering our students valuable International immersion experiences. He adds, "The takeaways gained from Dr. Tharp's experience in India will prove valuable as we establish and refine our International engagement strategies."
Infosys' vision is to retain a competitive advantage by focusing on quality software, the best in the world, and to take advantage of demographics. "The United States has an aging population of software developers, while India has a growing number of young software developers," Tharp said.
In terms of India's rapid changes affecting computer science, Tharp said he wonders what might be done to ensure the United States' competitiveness and leadership in software development. From his observations, Tharp discovered that it will be necessary for faculty in the United States to discover new ways to engage and motivate the typical student in current generation of students.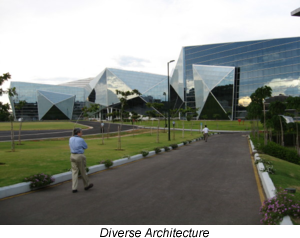 "Perhaps that will occur with a greater use of gaming or more visual methods of teaching," Tharp said. "It will also be important to place a great emphasis in engineering and computer science education on the right brain skills – skills which are central to innovating the best products, services and processes in the world."
In addition to his observations, Tharp discovered that many Indian-born, but U.S.-educated software engineers are now returning to India. As a result the U.S. can no longer count on them for providing the shortfall in U.S.-born software engineers. Tharp said he wonders if it will be necessary for U.S. companies to turn to Indian software companies for a reason other than price.
Tharp wonders since fewer students from India may be coming to the U.S. for a graduate education in the future, where the US graduate students will come from (approximately 46% of NC State's Computer Science graduate students currently come from India.) He also wonders what needs to be done to interest more U.S. students in graduate education.
Overall, Tharp's experience in India suggested "a greater urgency that the United States must modify its educational programs to remain competitive in the global marketplace."
~forcina~
Return To News Homepage