CSC News
May 22, 2008
Young Works with Wake County to Host Economic Development Forum on Serious Games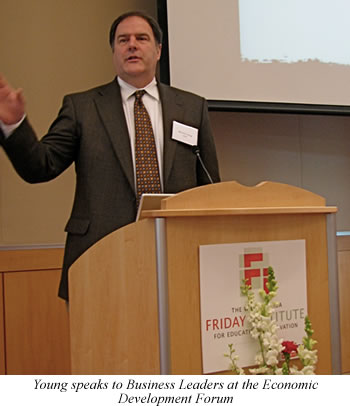 On Wednesday, May 21st, 2008, NC State's Friday Institute for Educational Innovation played host to the
2008 Wake County Economic Development Forum
, attended by over 100 industry leaders, university administrators and North Carolina legislative staff and representatives.
This year's forum focused on the growing field of
serious games
, an industry with a critical mass in North Carolina.
Dr. R. Michael Young
, Associate Professor of Computer Science and Co-director of the
Digital Games Research Center (DGRC)
, served as the forum moderator and helped coordinate the event with Wake County's Office of Economic Development and the NCSU Office of Extension, Engagement and Economic Development (EEED).
"North Carolina is unique in its combination of the leading game companies that are headquartered here, its world-class research universities and many North Carolina high tech firms seeking to employ advanced technologies to address training and workforce issues," said Young. According to Young, an ongoing joint effort by the DGRC, the university's Office of Economic Development and Wake County's Precision Marketing program is building partnerships between the university and the major North Carolina players in serious games.
Speakers at the event included
Dr. Bill Atkinson
, President and CEO of WakeMed,
Dr. Eric Roberts
, Chief Scientist for Learning at the Department of Defense's Advanced Distributed Learning Initiative and
Mr. Jerry Heneghan
, CEO of Virtual Heroes, Inc., a local serious games company. Presentations emphasized the critical need for the use of game technologies to solve problems in diverse areas like education, training, collaboration, scientific visualization and health care.
North Carolina is a national center of excellence in serious games, that is, the application of game technologies to areas other than entertainment, and is home to over 30 of the games industry's leading companies. NC State's Digital Games Research Center serves as a focal point for games-related research and educational activities on campus and its faculty carry many innovative research projects in serious games.
For more information on Dr. Young,
click here
.
For more information on the Digital Games Research Center,
click here
.
Return To News Homepage