CSC News
May 12, 2008
Department Confers 108 Degrees During Spring Diploma Ceremony
On May 10, 2008, approximately 1,100 relatives and guests watched in pride as 108 degrees were conferred by the NC State Department of Computer Science during the
Spring Diploma Ceremony
held at Providence Baptist Church in Raleigh.
The graduating class included six Ph.D.s, 39 MS degrees, and 63 BS degrees, expanding the department's alumni base to approximately 5,400. In addition, the event included 20 graduates who were unable to participate in the December 2007 diploma ceremony.
The undergraduate class included three Valedictorians with perfect 4.0 GPAs:
Kenneth J. Ganong, Priyadarshini Manavalan & Jennifer Lynne Robison
. Four students were recognized (
Priyadarshini Manavalan, Bobby Ryan Newberry, Jennifer Lynne Robison & Ryan Schmidt
) as members of the Computer Science Honors Program, one (
Ryan D. Gerleve
) as a member of the University Honors Program, and three (
Kenneth J. Ganong, Joseph David Johnson & Bobby Ryan Newberry
) as University Scholars. Overall, more than 38% of those receiving their B.S. degrees, graduated with honors.
Dr. Mladen Vouk, department head, congratulated the graduates on their accomplishments, noting the numerous awards and accolades this class has received. He also thanked all those in the venue who had contributed to their success including faculty, staff and parents.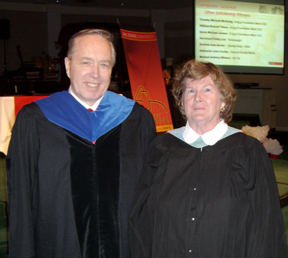 Recently retired department icon,
Joyce Hatch
, delivered the keynote address for the event. The much-loved Director of Undergraduate Advising who retired in 2006 after over 30 years of service, offered the graduates three very specific things to remember as they continue on their life journey. First, she warned, "If you are unhappy with your job, quit!" She told them life is too short to not be happy. Second, she said, "If you take someone's money to do a job, give them their money's worth." She expanded on that idea by saying that they should always do more that what is on their job description, always looking to do something that hasn't been done, as it might turn into a wonderful opportunity. Finally, she encouraged the students to "treat others as they want to be treated." The key, she said is to learn quickly to forgive, as the burden of carrying resentful feelings is not worth the effort or their time. Flashing a Vulcan salute, she concluded by telling the graduates to "be happy, be productive, live long, and prosper!"
Once again, Providence Baptist Church proved to be an outstanding venue for the department's diploma ceremony, providing ample free parking, comfortable accommodations, and professional AV capabilities allowing for live broadcast of the ceremony from multiple cameras angles.
DVDs of the ceremony are available for a nominal processing fee. Contact
Ken Tate
for more information.
Special entertainment was provided by pianist,
Brent Hubbell
.
Special thanks to our
ePartners Program
, its participating corporate sponsors, and the NC State Engineering Foundation for sponsoring this very special event.
Return To News Homepage