CSC News
April 07, 2008
Congressman Helps Launch Secure Open Systems Initiative
Provided with Permission from Engineering Communications
NC State University celebrated the creation of the Secure Open Systems Initiative (SOSI), a research center that will make vital computer systems more secure, with the help of Congressman David Price. The event was held April 4 on NC State's Centennial Campus.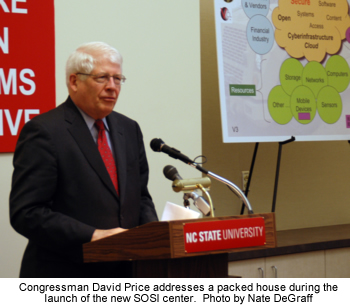 "The work being done at NC State just keeps reaching new levels of excellence," said Price, who represents North Carolina's 4th Congressional District and helped secure funding for the initiative. "Seeing something like this makes my job worthwhile."
The initiative begins during a period of increasing popularity for open computer systems, which can be modified by outside users and work in a variety of computing environments. SOSI researchers will find ways to protect open computer systems—used by the military, power plants, and financial centers—from hackers and other outside attacks that could harm the nation's security and economy.
Representatives of the University, the College of Engineering, and the Department of Computer Science, as well as many of NC State's corporate partners, attended the kickoff event, held at the Progress Energy Conference Center in Engineering Building II. The attendees saw a demonstration of open source robotics by computer science students.
SOSI came about after several years of close collaboration between representatives from the NC State Networking Technology Institute and several outside partners, particularly open-source giant Red Hat and the Army Research Office. According to Dr. Louis A. Martin-Vega, dean of the College of Engineering, the Army's involvement with this project was natural, as open source systems are now being used for military applications.
"This is a very critical area to our state and national needs," Martin-Vega said. "This initiative will allow us to be more secure. It recognizes the importance of protecting our information."
NC State has played an important role in the growth of open source systems, including its partnership with Red Hat, which has its corporate headquarters on Centennial Campus. In addition, more than a dozen NC State faculty members have been focusing research on software security, network security, software engineering, and new networking technologies, which are related to the SOSI initiatives. The research will be conducted on Centennial Campus, which in 2007 was named the top Research Science Park of the Year by the Association of University Research Parks.
"The opening of this center is a major statement by everyone involved," said NC State Chancellor James L. Oblinger. "It furthers the innovative work that is representative of Centennial Campus and NC State."
Price, who serves in Congress as the chairman of the Subcommittee on Homeland Security, pointed out the importance of protecting the country's sensitive information.
"Cyber-security has become a top priority." Price said. "We've got to be more pro-active in protecting our infrastructure. If we can identify threats to national security, then we can stop or mitigate the danger."
-daniel-
Return To News Homepage