CSC News
April 02, 2008
CSC Grad Students Organize Inaugural Symposium for Graduate Research
First time event deemed a huge success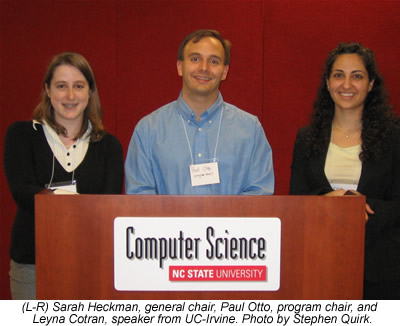 So you are a Ph.D. student and you have collaborated with your faculty advisor on an outstanding research paper, and you have been invited to present it at major conference in San Diego. Once you get beyond the excitement of the four-star hotel and the panoramic harbor views from your room, the reality sits in; you will be making a major presentation in front of hundreds of the most brilliant minds in your research discipline, and you have never done this before. Needless to say, you are feeling a bit overwhelmed and anxious as you approach the conference. You have learned so much during your academic career, but you don't feel prepared for this.
To help provide its grad students exposure to this important element of academia, the NC State University Department of Computer Science hosted the inaugural
Symposium for Graduate Research
on Saturday, March 29 in EBII on Centennial Campus.
The event was planned and coordinated by the department's graduate students for the benefit of other graduate and prospective graduate students, with the intent that it serve as a learning experience for graduate students exposing them to the various roles and components of a major technical conference.
More than 30 people attended the event, including students and faculty from NC State University, the University of California, Irvine and the University of Virginia.
During the Symposium, three participants presented research presentations on which they received feedback about both the written and verbal dissemination of their research from their peers. The first presentation, titled "
Contributions of Formal Computational Approaches to Designing and Evaluating Human-Machine Interfaces
," was presented by graduate student
Marivic Bonto-Kane
and co-authored by
Dr. Robert St. Amant
, both from NC State. The second presentation was by Leyna Cotran, a University of California, Irvine, graduate student, titled, "
Adding Agile Practices on an Embedded Systems Project
." The paper was co-authored by Dr. Susan Elliot Sim from University of California, Irvine and Dr. John Noll from Santa Clara University. The final presentation focused on "
Scalable I/O on Distributed File Systems for Parallel Genomic Searches
," by
Heshan Lin
, a graduate student from NC State and his advisor
Dr. Xiasong Ma
, and Dr. Wu-chun Feng, a Virginia Tech professor.
The goals of the Symposium for Graduate Research were to:
• serve as a teaching conference for graduate students by providing opportunities to serve on the organizing committee and program committee of a conference
• provide constructive feedback about written and verbal presentations of academic research to graduate students
• function as a forum for dissemination of research and collaboration within the Department of Computer Science at NC State University and beyond
• showcase computer science research from NC State and beyond.
This inaugural Symposium for Graduate Research was sponsored by
NetApp
,
SAS
and
EMC
, which allowed the organizers to successfully plan, organize and make the event a success.
Special thanks to
Sarah Heckman
, the general chair of the event, and
Paul Otto
, program chair, and all those who helped make this event possible.
To learn more about the event and those involved, please visit the Web site:
http://agile.csc.ncsu.edu/sgr/
.
~forcina~
Return To News Homepage