CSC News
March 31, 2008
Anjum Receives NMF Gold Medal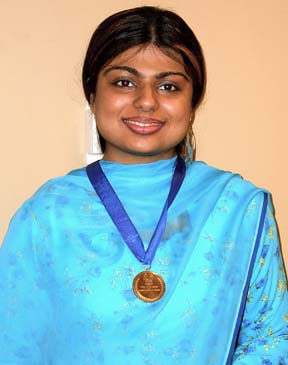 Congratulations to
Bushra Anjum
, an NC State computer science doctoral student, who recently received the
NMF Gold Medal
for securing the top rank among her Master's computer science graduating class of 2007 at Lahore University of Management Sciences (LUMS) in Lahore, Pakistan.
A Fulbright Scholar in the Ph.D. program within NC State's Department of Computer Science, Anjum completed her Masters Degree in computer science from LUMS last year. She was selected by the United States Department of State to receive the Fulbright Scholarship, which is granted to U.S. citizens and nationals of other countries for a variety of educational activities, primarily university lecturing, advanced research, graduate study and teaching in elementary and secondary schools.
Reflecting on the award, Anjum said, "It is not just the sense of achievement. It has more to do with the perspective the announcement gave to 6 years of my academic life! It added the element of honor to the mess of hard work, sweat, frustration, early mornings and late nights transforming the "mess" into this beautiful mosaic depicting sheer pride! Receiving the Gold Medal has become one of those 'check points' in life, which gives contentment when you look backwards and hope while looking forwards."
Anjum is advised by
Dr. Harry Perros
.
~forcina~

Return To News Homepage