CSC News
February 25, 2008
Iyer to Direct ARO Research Efforts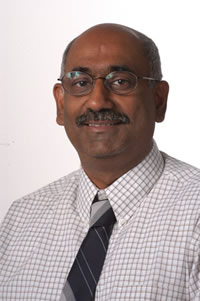 Dr. Purush Iyer
, professor of computer science at NC State University, has taken leave of absence from February 11, 2008 to December 31, 2008 to direct the
US Army Research Office (ARO)
Intelligent Systems program.
Iyer will direct and manage the extramural basic research program in the area of Intelligent Systems. His duties will include initiating new research projects in response to Army needs, stimulating proposals to respond to those needs, analyzing and evaluating proposals, selecting proposals for funding, communicating with grantees and contractors, reviewing and analyzing research reports, ensuring their effective distribution, stimulating technology transfer to both Army and civilian users, and maintaining awareness of Army in-house R&D programs. His duties will also include developing and giving briefings and presentations which highlight projects, objectives, progress, accomplishments and opportune areas to Army management and the scientific community, initiating and orchestrating workshops, conferences, and symposia on pacing research issues, and serving as principal Army advocate and representative for basic research activities and needs in Intelligent Systems and related fields.
For more information on Dr. Iyer,
click here
.
Return To News Homepage