CSC News
February 22, 2008
Visualizing NFL Football Games
Each year, the Super Bowl is watched by millions on TV. Most would say they prefer a very big high definition television, but some might argue there is more to see than what is broadcasted on your TV screen.
Meet
Dr. Christopher G. Healey
, associate professor of computer science at NC State University, whose research focuses on visualization, the conversion of large collections of strings and numbers into images that viewers can use to explore and discover new perspectives. While he and his research colleagues frequently focus on the visualization of scientific applications, the same techniques can be applied to visualize data based on a personal interests, or on its popularity in the public-at-large. One such example is the visualization of play-by-play results for National Football League (NFL) football games, including this year's Super Bowl.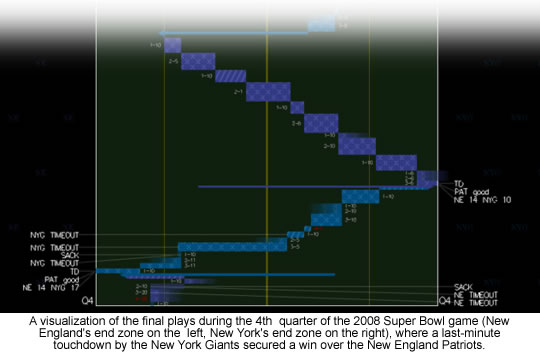 Healey and his team were curious about whether presenting play-by-play information in a visual format would provide any particular advantages. Seeing the plays as they unfold might provide insights into the types of offensive or defensive strategies different teams employ, either in a general sense, or based on "in-game" situations.
To do this, they converted the NFL's play-by-play text into a visualization of the plays within a particular game, parsing the play-by-play text into a format that unambiguously describes each play. Then, they converted the play-by-play descriptions into an effective visual representation, with the goal of creating an image that shows the flow of the game in an efficient and effective manner.
The current visualizations represent their first prototype designs, and Healey says much work remains to be completed.
He plans to extend similar visualizations to include NCAA games in the future.
To view a more comprehensive description visit NFL Visualization
project page
.
Dr. Healey encourages you to mail your questions or comments to him at
healey@csc.ncsu.edu
.
Return To News Homepage