CSC News
February 08, 2008
Samatova Receives ORNL Outstanding Mentor Award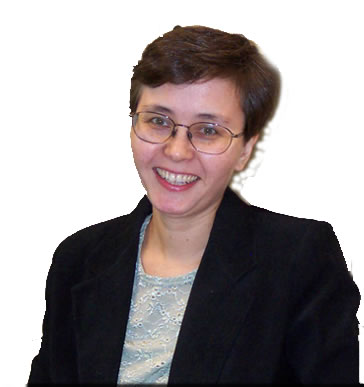 Dr. Nagiza Samatova
, an associate professor of computer science at NC State University, has been selected by
Oak Ridge National Laboratory (ORNL)
to receive an
Outstanding Mentor Award
for her service to the next generation of scientists and engineers.
The award was presented to Samatova by William Valdez, Director of the Office of Science's Office of Workforce Development for Teachers and Scientists, by Dr. Thom Mason, ORNL Laboratory Director and by Dr. Jim Roberto, ORNL Deputy Director for Science and Technology, during a special ceremony on Tuesday, February 5th at the ORNL Research Support Center in Oak Ridge, TN. The ceremony was sponsored by ORNL and ORAU (Oak Ridge Associated Universities) to honor the outstanding commitment ORNL scientists and engineers make to students and teachers participating in the Laboratory's education programs.
Samatova, who joined the department last fall, shares a joint appointment with ORNL. She holds a Ph.D. from the Computing Center of Russian Academy of Sciences (CCAS). Her research interests are in Systems Biology and Bioinformatics, Scalable Data Analytics, Data Management and Data Integration, Graph Theory & Algorithms, Natural Language Processing, and Data and Text Mining.
Congratulations, Dr. Samatova, on your outstanding efforts to develop future generations of science and engineering leaders.
Return To News Homepage