CSC News
January 23, 2008
Williams and Devetsikiotis receive IBM Jazz Faculty Grant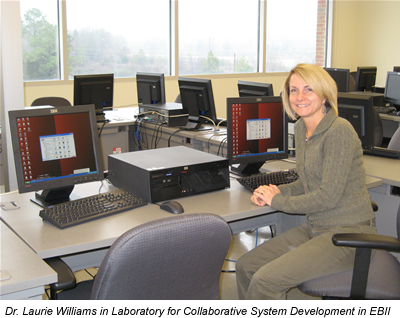 Congratulations to
Dr. Laurie Williams
, associate professor of computer science, and
Dr. Michael Devetsikiotis
, professor of electrical and computer engineering, for receiving one of five
IBM Jazz Faculty Grants
of $25,000 awarded in the final quarter of 2007. Faculty from Carnegie Mellon University, University of Calgary, Brown University, and Saarland University (Germany) received the 4 other awards.
Proposals for the Jazz Faculty Grants were judged on the basis of originality, importance, openness, the educational use of Jazz, and the ability of the researchers to do extensive research in this area.
Jazz is an open-source platform that provides support for collaboration between a team of software developers. Williams and Devetsikiostis' research will focus on distributed pair programming between members of a team in the Jazz environment. Their research will also examine remote virtual collaboration and ways to make Jazz available on an as-needed basis.
Williams hopes that increasing the ability of developers to work in teams in this type of environment will attract more women and African-Americans to the computer science and IT industry. Most importantly, though, NC State students will be among the first to gain exposure to Jazz; before many of the industry's leaders.
IBM is a valued Super ePartner with the department and is actively collaborating with our faculty and students on numerous programs and initiatives. NC State University is one of IBM's top suppliers of new graduate talent, worldwide.
For more information on Dr. Williams,
click here
.
For more information on Dr. Devetsikiostis,
click here
.
For more information on our ePartners Program,
click here
.
~Jacobs~
Return To News Homepage