CSC News
November 07, 2007
Centennial Campus Honored as Top Research Science Park
By Keith Nichols, NC State News Services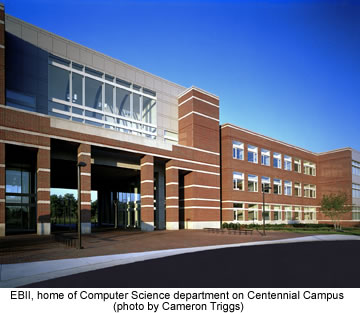 North Carolina State University's Centennial Campus, (Launch Centennial Campus photo gallery) home to more than 130 companies, government agencies, and NC State research and academic units advancing technologies ranging from semiconductors to genomics tools, has been named the top Research Science Park of the Year by The Association of University Research Parks (AURP).
"NC State is about unique partnerships – creating student opportunities, research and economic development," said Chancellor James Oblinger. "Centennial Campus epitomizes the work of NC State. It's no surprise that Centennial Campus has become a national model for university research parks."
Located on a 1,334-acre site adjacent to NC State's main campus, more than 1,600 corporate and government employees work alongside a thousand-plus faculty, staff, post-docs, and students. Major partners include ABB, Red Hat, the Iams Company, Ericsson IPI, the U.S. Department of Agriculture, GlaxoSmithKline, MeadWestVaco and Talecris Biotherapeutics.
These partnerships allow corporate and government entities to tap into NC State's strengths in cutting-edge research and client-driven training programs across multidisciplinary fields such as information and communications technologies, bioscience and biotechnology, advanced materials, and education.
Centennial Campus had a record year for new businesses last year, adding 17.
Centennial Campus is based on a "knowledge enterprise zone, which creates synergy leading to innovation and transfer, and improved quality of life for North Carolina and beyond," said David Winwood, associate vice chancellor for technology development and innovation at NC State. "We are honored to be the recipient of the AURP 2007 Science Research Park Award."
Centennial Campus was selected from among finalists that included bwtech@UMBC Research and Technology Park in Baltimore, and Sandia Science and Technology Park in Albuquerque, N.M. AURP cited Centennial Campus for accomplishments in innovation and technology partnership creation for economic development.
"Congratulations to Centennial Campus on winning the Science Research Park of the Year Award," said AURP President Mike Bowman. "Centennial Campus exemplifies the new model of research science parks, in which strategically planned mixed-use campus expansions create innovation, partnerships, and a high quality of life for their community and the nation."
Link to story on NC State News Site

Return To News Homepage